Getting to know Aunt Flo: Apps for tracking your period
These apps can help you get to know your cycle and understand your body better.
By Elana Tsogt-Erdene.
What started off as a way for me to keep track of my period has become much more than an organizational tool. By using a period tracking app, I've learned more about my body, my reproductive health, and the impact my cycle has on my mood and other parts of my life.
Period tracking apps offer women and girls an easy way to conveniently track their cycles. We've written about their use in Fertility Awareness as a birth control method, but these apps can also be used to understand the cycles of your body or predict when your next period will come or when PMS might hit.
So many options
When it comes to period tracking apps, the options seem endless. In researching this article, I downloaded a whopping 28 apps that promised to help me track my periods, understand my cycle, avoid pregnancy, and more. I went through each and every one, asked friends for recommendations and feedback, and ranked the apps based on user friendliness, customizability, and appearance. I've reviewed four favorites—Clue, Period Tracker Lite, Period Tracker, and Eve (formerly known as Ruby).
Clue
Clue, "a cycle tracking app that's confident, scientific and not pink", is the app that I use and my own personal favorite. Using Clue, I can track:
Period (light, medium, heavy, spotting)

Pain (cramps, headache, ovulation, tender breasts)

Sex (unprotected, protected, high sex drive, withdrawal)

Mood (happy, sensitive, sad, or PMS)

Fluid (egg-white, sticky, creamy, atypical)

Birth control pills (taken, late, missed, doubled up on)

Temperature
Clue is comprehensive and detailed, with a simple layout and clear explanations, and is great for Fertility Awareness as well as period tracking.
Interface: Easy to use and there are detailed explanations for everything.
Icon: Simple and sophisticated, featuring only a red circular design above "Clue."
Available for download: Apple's App Store and Android Google Play.


Pros:
Tags for tracking. You can create your own or use the pre-made tags to track certain experiences, such as skin problems or cervical positions.

Optional reminders. 11 customizable reminders for everything from your period's arrival to breast self-exams to taking your pill/putting in your ring/putting on a new patch.

No need to sign up and no ads. What you get (for free) is the best it has to offer.

Educational. There are detailed and easy to understand explanations of every feature and option, making this a good app for tracking and understanding your cycle, moods, and more.

Easy to see your fertile window and your ovulation date.

Thanks to its algorithm, I noticed that the more you use Clue, the more accurate it gets.

For iPhone users, you can add Clue to your Notification Center, which gives you easy access to your cycle's start and end dates, among other things.

Works with the Apple Health app, sharing data back and forth, which you can customize. For those who use the Health app, this would be a convenient way to merge your health app data.
Cons:
No community feature. Other apps allow you to interact with other users and share experiences or advice, but Clue doesn't provide that.
Period Tracker Lite
Period Tracker Lite came highly recommended by a friend for its ability to "predict [her] period coming exactly on the dot every month consistently" and its simple period countdown feature. Another friend credits Period Tracker Lite with helping her figure out that her irregular periods were linked to school-related stress—so much so that her periods stopped altogether when school was in session.
Period Tracker offers two versions, Period Tracker Lite and Period Tracker Deluxe, with the Deluxe costing $1.99 (plus tax). For this article, I downloaded the free Lite version.
Period Tracker Lite lets you make notes like "intimate today," "period started today," or whatever else you think is worth recording. It also tracks:
Symptoms (acne, backaches, bloating, etc. as well as severity)

Moods (angry, anxious, calm, etc.)

Others (weight, temperature, "pills," which can be customized to track whether you took your birth control pill)
Period Tracker Lite is easy to understand and use, but it's not as comprehensive as Clue and does not offer detailed explanations of your cycle, moods, etc. The dashboard offers a clear countdown to your next projected period start date.
Interface: With its flowery motifs and youthful simplicity, it may be better suited for younger girls rather than adults.
Icon: A pink flower and the name is displayed as "P Tracker Lite."
Available for download: Apple's App Store and Android Google Play.


Pros:
Large range of moods and symptoms. Under "Moods," there were a whopping 33 choices, ranging from "forgetful" to "jealous" to "flirty." For "Symptoms," there were 17, including "cravings," "indigestion," and "neck aches."

Comprehensive and easy to view cycle tracking. Calendar legend shows the heaviness of period flow, estimated future period days, estimated ovulation, and more.

No surprises (from Aunt Flo). Home page states "projected [period] start date" with a countdown showing the number of days till your period starts.

No need to create an account. While signing up is encouraged for backing up your data, you don't need to in order to use the app.

Customization. You can choose your period and cycle length, default ovulation date, and add (or delete) symptoms/moods. There is also an "Abstinence Mode," which can be used to hide the intimacy and ovulation/fertility features.
Cons:
Ads. There is an ad on the bottom half of the page in the Lite version of the app.

Upgraded version. There are exclusive features available only on Deluxe.

Appearance not customizable. The only option available on Lite is "Nature Girl" as shown above and it feels more suitable for a 14-year-old than a 20-year-old.
Period Tracker
Period Tracker is by far the prettiest of the apps I reviewed. Advertised as "a classy, pleasant, and discrete interface to track your periods, daily moods, health symptoms," it allowed me to track:
Thoughts for the day (including pictures!)

Location

Temperature/Weight

Intimacy/Spotting

Flow/Symptoms (18 options, on a three color scale to rate severity, with option to create your own)

Moods (27 options, ranging from "bored" to "gloomy" to "in love," with the option to create your own)

Medication (customizable by your choice of birth control or other daily medication)
Period Tracker's dashboard displays a countdown to your next period and stunning graphics.
Interface: Above all, Period Tracker is beautiful. The vast majority of the apps I downloaded were pink and laden with daisies, butterflies, sparkly lights, and similarly girlish features that, more than anything, "pinkified" that "time of the month." While that is not a bad thing, it's nice that a more sophisticated app available.
Icon: A discrete number 28 inside a circle and is simply called "P.Tracker."
Available for download: Apple's App Store.


Pros:
Visually appealing. There are 7 themes to choose from, each of them featuring a range of equally stunning backgrounds. The thoughtful aesthetics make using the app a pleasant and fun experience.

Privacy. You can set a passcode so that you'll be the only one who can access the app.

Community feature. Users can discuss a variety of topics like Health & Wellness, Pregnancy, and more.

High customizability. You can customize everything from the font to the optional reminders (daily, period, and general).

No surprises. On the homepage, there is a countdown of days left till your next period.

Predicted periods. Perhaps the coolest feature Period Tracker offers is its "predicted" section, where you can see your predicted period start and end days for the next 12 months. The math is based on your average cycle length and duration, so it works best for those with regular periods.

Past periods. You can enter as many past periods as you want with ease.

No need to sign up. You can email your backups of the data. You do need to sign up in order to participate in the community feature, though.
Cons:
Ads. Like Period Tracker Lite, there is an ad on the bottom of the page. It's not a huge distraction, but it is annoying.

Premium Upgrade. There is an in-app upgrade available for $2.99 with more custom moods/symptoms, themes, and seasonal/winter themes. To its credit, there are no in-app notifications to update.
Eve
Eve (formerly known as Ruby) is a tracking app by the same people who created Glow. Eve is "a savvy health & sex app for women who want to take control of their sex lives" created for "sexually-active young women who want to own their cycles and feel good in bed."
Using Eve, I was able to track:
Sexual activity (with or without condom)

Mood (happy, emotional, stressed)

Symptoms (cramps, headache, bloating, tender breasts)

Discharge (white, clear, or spotting)
Eve is sex positive, empowering, and easy to use. The (very active) community feature allows women to be uncensored and honest in talking about their bodies, their health, and their sex lives. It is also the only app I reviewed that features educational content on birth control, powered by Bedsider.
Interface: Easy to use, interactive, with bright colors and fun graphics.
Icon: A ruby gem and name is simply "Eve."
Available for download: Apple's App Store.


Pros:
Community feature. Users can discuss a variety of topics like Love & Sex, Sexplanations, Period Talk, and more. It's a bit more explicit than Period Tracker's, so be forewarned.

Easy to track cycle. The homepage shows your location in your current cycle.

Did you start your new period? When you near your period, the question pops up and you can either respond "yes" or "no" with the option to choose to be asked the question again in 1, 5, or 10 days.

Privacy. You can set a passcode so that you'll be the only one who can access the app.

No need to create an account. You must sign up to save your data and participate in community discussions, but you can use the app without signing up.

Birth Control: The Scoop. There is Bedsider content on birth control in the app.

No updated version. What you get (for free), is the best they have to offer. However, you receive constant in-app notifications to sign up.

Works with the Apple Health app, sharing data back and forth, which you can customize. For those who use the Health app, this would be a convenient way to merge your health app data.
Cons:
Small number of moods/symptoms to select from, no option to create own or customize.
Why track?
There's an app for everything, and with the rise in popularity of the Fertility Awareness Method, innovative apps are constantly being created to help women track their cycles. These apps incorporate user-friendly designs and customizable features to create a positive experience for users. The apps are easy to use and involve a low commitment, requiring no more than a minute or two a day to log your information. Community features, journals, and even daily photo log options make period tracking apps versatile, fun, and useful.
Period tracking apps empower women to listen to our bodies and understand our cycles. When you track your cycle and methodically log your periods, moods, and symptoms, you will notice patterns as you become more in tune with your body. Vaginal discharge becomes more than just an inconvenience—it's a sign of the daily changes your body experiences, of ovulation and fertility, of your reproductive and sexual health.
Whether you're trying to avoid pregnancy, become pregnant, become more familiar with your cycle, or learn more about your reproductive health, there is an app out there that can help. Try some out and share your favorites in the comments!
—- Elana Tsogt-Erdene is a former Bedsider intern and a junior at Mount Holyoke College in South Hadley, Massachusetts. She is a Sociology major with a special interest in social networks and has been a Campus Leader for Bedsider U, Bedsider's college program, since her first year. In her free time, she likes to have long conversations with her advisor (hi, Tim!) about the relationship and friendship networks of college students, sleep in and miss brunch, and muse over whether Tinder spells the end of dating for the Millennial generation (she thinks not).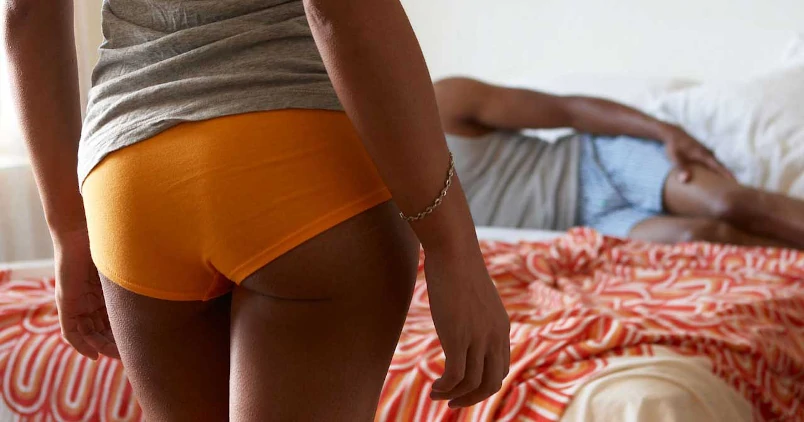 Subscribe to Frisky Fridays
Heat up your weekends with our best sex tips and so much more.