Your 2022 horoscopes: this year will be fulfilling
Here's to 2022!
We made it! Another year down! The roller coaster of 2021 is finally over and we're all ready to enjoy a smoother ride in 2022. The only way to go from here is up. Cheers to a brighter year ahead, filled with love and light. Read on to find out what's in store for your sign in 2022!
Capricorn
December 22nd - January 19th

What to expect in 2022: You've been in go-mode for so long that the idea of "dreaming" might feel like something that's been off your radar for a long time. Yes. DREAMING. You know, not working your ass off and letting your mind wander to explore the desires of your heart. Getting a little deeper into your desires is going to help you this year, as you find the path towards fulfillment that you didn't even know you needed.
Key Dates: Late January holds a BIG moment for your love life, and you'll make some big decisions around where it's going in the near future. Late April will bring a powerful moment for envisioning something new, bold, and empowered for your future! You will be going the distance with this vision for the rest of the year.
January forecast: Though potentially filled with a little more drama than you'd like, this month offers you some very important information about the truth of where your love life is heading. Getting very clear about what you want, and how you want it, will serve you in making some very big decisions now. You are not one to ignore it when life hands you something very serious to think about. This will be a month for some very serious considerations.
Aquarius
January 20th - February 18th

What to expect in 2022: Ongoing BIG change is happening for you this year, and it's restructuring your whole life. But the good news is that your financial life should be hitting the next level of abundance, and you are getting very serious about how to focus your resources. This will also branch out into the world of your love life, where you will trim the fat on more superficial desires and focus on deeper ones. (Even if it means a little extra time spent single).
Key dates: The end of March will be a big month for your love life! If you are dating, you are likely to draw in a very important partner at this time. Late October is a time of lots of momentum for all areas of your life. Things are really reaching the next level right now, and your hard work is paying off!
January forecast: There's a lot going on for you in the heart department this month. It may surprise you what truths emerge from your deep inner desires. If you are spending time on any relationship that is no longer worth it, you will likely be made aware of that truth within the month. Be careful about big dramatic decisions, though: it'll be easy to go overboard with something. You may need just a bit more time before you pull the trigger on it.
Pisces
February 19th - March 20th

What to expect in 2022: This. Is. Your. Year! Get ready for your success to go from a trickle to a waterfall. You've worked hard over recent years to get where you are, and you are finally going to be able to enjoy the fruits of your labor. Your love life may also be full of swelling passion as you either find new excitement with an old lover or find yourself being romanced by somebody new and exciting! Great things are coming.
Key dates: Big career success is coming mid-February! (Don't forget that you got a little help from your friends. Remember to celebrate with them!) Mid-April is the high point of the year for luck, success, and so much LOVE. Somebody special is likely to be around treating you like the mermaid queen you are.
January forecast: This month is major for setting the stage for an important transition in your love life. Getting very real about what you want could either shift the whole shape/form your relationship has taken OR cause it to exit your life entirely. Though the latter may sound less than favorable, know that there's such huge expansion coming to you this year. You likely won't be sad for long, and the honesty will be worth it.
Aries
March 20th - April 19th

What to expect in 2022: This year builds towards BIG expansion for you! All that you've been working so hard for is about to finally explode into success. Can you stay the course and keep in the process of co-creation with others until then, though? If so, your collaborative success with others is likely to be way more than anything you'd imagined. This is also a great year for finally attracting a lover who can keep up with your fiery style. 2022 here you come!
Key dates: Love interest alert at the end of May! This is a potent time for awakening deep desire with somebody new and it's likely to be hotter than anything you've had in a while. The end of August is a period of major focus on a project that will take up a lot of your time and require all you have to offer, but it will be awesome—and you'll be at your best!
January forecast: Clearing out some "old karma" might be the deal in your love life this month. Though you are feeling ready to move on with what the new year has for you, it's important that you face whoever is coming up from your past right now. If you do, you'll be ready for the big expansion that the rest of the year will bring you, and you'll be able to receive it.  The end of the month should set a clearer (and easier) course for you.
Taurus
April 20th - May 20th

What to expect in 2022: This year holds some important work for you. And that work is centered in balancing big change with big responsibility. Some major things (including career and love life) are re-arranging this year, and your commitment to that legendary Taurus stability will be tested. But if you can embrace a little flexibility alongside your non-negotiables, this year can offer you some amazing abundance from unexpected places.
Key dates: Mid-February brings a key moment for dreaming up the future in your love life, maybe even making concrete plans for the next step with your love interest! Mid-July will be your high point for the year for big energy, big intentions, and upping your game in the success department.
January forecast: It may be reassessment time for something you have long been committed to. Is your commitment still in alignment with your actual current needs? Though you have always been really fixed in your desires, you may need something new (especially in your love life), and it won't be ignored. Letting things get a little shaken up isn't the worst thing and can open things up for something WAY more fulfilling to come in.
Gemini
May 21st - June 20th

What to expect in 2022: Your enthusiasm is unbridled this year, and you are pursuing the hell out of whatever catches your eye. While passion is great for achieving your goals in life, it could get you into trouble if you come to find out that the thing (or love interest!) you thought you most wanted turns out to be based on delusion. Your success this year depends on your ability to balance the spark of new excitement with commitment to long-term vision.
Key dates: At the end of June, you are speeding towards BIG results in an important endeavor you've been pursuing! Remember to slow yourself down a bit and really consider your options from time to time. Early October will be a passionate time in your love life, where you're in pursuit. You're really going for it, and it will pay off!
January forecast: Expectation vs. reality is huge this month, especially when it comes to your love life. Whether you've been dating somebody, or have been single and looking, some qualities you need in the relationship department may be aggressively emerging into your awareness. Little fights and/or bickering in your relationships may reveal you are not facing the deeper core issues that need to be faced. Getting as honest as possible with your relationships is the key.
Cancer
June 21st -July 22nd

What to expect in 2022: Though your sign doesn't need any more encouragement in this direction, it's time to follow your heart. This year you are opening to big new worlds of possibility! Whether it be your love life, your career life, or your general success, you are learning what's over the horizon and can see everything you ever dreamed possible. Pay attention to the synchronicities: all the good stuff really follows the guidance of your intuition this year. That includes big love life potential!
Key dates: It may feel like some of your deepest desires are coming into manifestation at the end of April! Staying open to the flow of abundance will help you take full advantage of all the good stuff. Early August is an important career moment for you! A lot may be demanded from you right now, but big rewards are coming on the back end of it.
January forecast: This month will probably feel like cleaning out the love life closet. Does your romantic situation fit your wants and needs anymore? If the answer is no, it's likely to give you a clear indication that it's time to move on. The good news is that even if you go through a breakup, there is some positive energy sweeping you into a current of higher alignment and that is leading you towards a partnership that is WAY more your thing. Trust the process. 
Leo
July 23rd - August 22nd

What to expect in 2022: If you've been feeling a little sloggy over the recent cycle, this year will bring you some fresh energy and replenished vitality. Your fire is about to get re-ignited! It's an important time to not forget what you've learned about contributing your energy to the whole, not just your own selfish concerns. Your community needs you. Keeping the right focus at the center of your world will orient everything (including your love life) in its right place this year.
Key dates: Late May is the best time for energy, vitality, and lighting a fire under any of your major pursuits! In late August, happy developments in your love life makes all the peripheral reality annoyances you're having to deal with totally bearable. Rose-colored glasses, for a change, feel good!
January forecast: This month sees you going deep. As in, nothing you are facing in life right now feels lighthearted. And even though that may get a little exhausting, the rewards will be big later in the year if you can do the hard work now. Only the most courageous hearts can come out of everything you've been through even stronger, and that's nothing if not Leo. (And hey, the good news is your sex life may be especially hot right now, and that can be a helpful reprieve from what you're facing.)
Virgo
August 23rd - September 22nd

What to expect in 2022: Relationships are a big focus for you this year. Yes, that of course includes the love department, but it also includes other forms of relationships. A lot comes to you through "the others" in your life. Or at least it can, if you'll accept it (which means letting others bless you with their presence, help, and friendship.) If you do, it will offer you a lot of richness. Increased vitality and good health are added blessings of this year, helping your glow-up plans get to the next level.
Key dates: Ooh, is that somebody new? Mid-February is an important moment for something BIG getting established in your love life. In mid-April, things may feel a little dreamy. This is a big time of the year for synchronicity and magic to bring you some things you've ALWAYS wanted.
January forecast: Since you prefer calm, focused energy rather than out-of-control emotions, this month may be a little anxiety-inducing when big relationship shifts force you to deal with the unexpected. This month is important for making necessary changes in your relationship world though, so dealing thoroughly with whatever arises in your love life world will be worth it in the end. 
Libra
September 23rd - October 22nd

What to expect in 2022: This year has A LOT to do with your favorite thing: relationships. Especially mid-year, your love life is gonna be sizzling with fresh heat. If you're already partnered up, then things should be re-ignited in the bedroom department. And if you've been looking for a love interest? Well, this year brings somebody especially spicy into your life. So long as you can also balance all that your career demands from you, this should be an exciting time for fresh fulfillment.
Key dates: Late August will be a fiery time in your sex life! Somebody has shown up, and you are definitely exploring each other intensely. In mid-late October, so many things will be coming together in so many parts of life! It'll be a prime moment for connecting your efforts to success.
January forecast: This month may bring up that one thing you've been avoiding, but just can't anymore. (Likely a big deal breaker in your relationship.) Though facing it sucks, you CAN clear out some much-needed space for what's far more aligned if you can get real with yourself and your partner. Doing that will help you with how much is trying to come into your life (especially a few months from now!).
Scorpio
October 23rd - November 21st

What to expect in 2022: This year sees you making some unforeseen sacrifices, which is kinda sucky, but ALSO finding a lot of luck in things you weren't expecting. (Maybe a love interest who's left of center from your typical type, but who TOTALLY rocks your world?) Overall, the feeling of 2022 may be a mixed bag of both highs and lows, but if you stay the course with your deep Scorpio authenticity, you'll stay on a rewarding path.
Key dates: The end of April will be your love life high point! An unexpected lover could be emerging in your life as romantic energies swirl to an all-year high. Watch for the synchronicities! Early November brings a time of personal success! Your hard work will pay off with some well-deserved success.
January forecast: Though there may be some loose ends in your world of career/finance to tie up right now, you may be feeling a sense of magic, ease, and lightness returning to your world at this time. Keep an eye out for important opportunities emerging when you are in the right place at the right time, especially when it comes to your creative expression. Your sex life may also be HOT this month.
Sagittarius
November 22nd - December 21st

What to expect in 2022: As far as you're concerned, it's the renaissance. You are feeling a return of magic in your life, after feeling a bit more nose-to-the-grindstone for the past cycle. And that magic is helping you feel the kind of freedom you value most in life. Though you are rarin' to go, be careful this year when it comes to the delicate feelings of more sensitive relationships in your life. It'll be easy to ride roughshod over important people if you're not a little cautious at times.
Key dates: Mid-June is a great time to pursue a fresh dream! You are all-systems-go on whatever your focus is right now. In mid-August, you and your lover will be vibing and enjoying a sumptuous sensual time together.
January forecast: This month may be revealing the need to review your financial expenditures. Though for you, the party is always going, and you trust the blessing of life's natural generosity to always provide for you, you may be guided to focus on a budget to best organize your life right now. If you are in a partnership, shared expenses may also bring this into focus.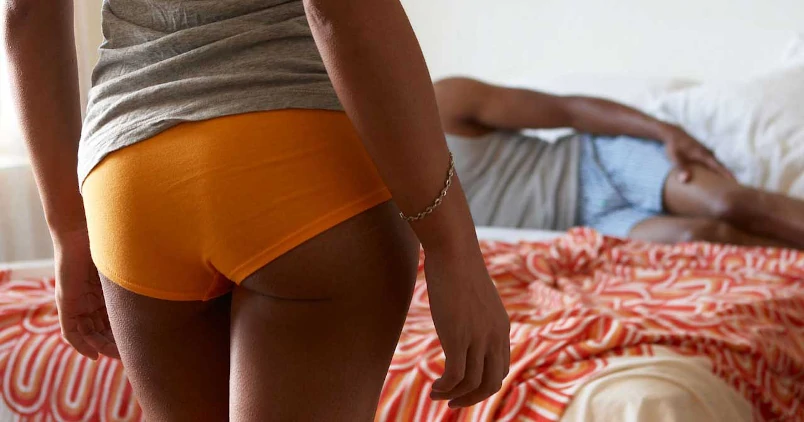 Subscribe to Frisky Fridays
Heat up your weekends with our best sex tips and so much more.