February 2022 horoscopes: stay open to new possibilities
Give new love, success, and opportunities a chance!
The year 2022 is well underway and is off to a good start! February will be the month of making plans that will determine the path the rest of the year will take. Choose your next steps carefully. You have all the tools you need to come out on top. Read on to find out more!
Aquarius
January 20th - February 18th

A relationship that requires your innate sense of fairness and honesty this month brings you face-to-face with a tough call. Though it might seem impossible to create a win-win, remember that in choosing your integrity, you'll always win out in the end. Things may not feel especially light-hearted right now, but you are laying the groundwork for big rewards down the line.
Pisces
February 19th - March 20th

You are feeling so much expansion this month that your imagination is starting to really take off. If things are going THIS well, what else is possible? Though it's relieving to feel some joy again after such a long time navigating harsh realities, it's important to remember to stay grounded. Your love life, success, and financial abundance requires your real-world tending to continue growing at the rate your dreams are expanding.
Aries
March 20th - April 19th

A recent impulsive choice may be costing you extra time and effort this month. Though nothing upsets you like a redo, unfortunately you gotta swallow it and be as thorough as possible with the repair work on this one. The good news is that everything from here on out is gonna go forward on the right foot and the results will be far better for everybody involved. Be careful of a short temper and potential compounding damage from your more fiery side this month.
Taurus
April 20th - May 20th

A LOT is coming into your life right now! The interesting part is that the things coming in may be very different from all you've ever imagined for yourself. The amount of change you're going through right now is attracting all that's different: a different lover, a different job, a different life, and a different way of valuing everything. Though that much change may make you uneasy, you will likely soon see how the course correction makes sense for you.
Gemini
May 21st - June 20th

You may find yourself tentatively re-emerging from a recent bout of serious problem-solving, now hoping for a more positive use of your usually buoyant energy. February holds a lot of magic for you! Possibilities in your dating life arise, but there's also an air of caution—an immediate all-in approach may not be the best way to go forward at this time. Balancing good pacing with an enthusiastic desire to explore will make it a good time for new experiences.
Cancer
June 21st -July 22nd

Bridging desires between yourself and others this month seems to be central in your life. It's been a time of discovering where you and your loved one aren't speaking the same language when it comes to what you both desire. Working towards resolution has been no easy feat. Though the work continues, the good news is that there's likely to be an easing of opposition and a softening of hearts, especially towards the end of the month.
Leo
July 23rd - August 22nd

The devil is in the details. And sometimes, even your larger-than-life charm can't make up for where you haven't paying attention to the little things. An important relationship is calling you into accountability for something you've maybe overlooked and the best thing you can do is own up with full integrity to the issue. Though that may not feel wonderful to your pride in the short run, you will ultimately win the heart of your loved one all over again by putting in the effort.
Virgo
August 23rd - September 22nd

A big expansion to your love life is on its way! Good news, especially after all the work you've done recently to clear out old energy that no longer aligns with your current desires. This month is a juicy time for exploring flirtation, intimacy, and sensual pleasures with a lover who speaks an earthy love language (the same as you). Just remember to not only cling to offering acts of service as your main love life connection point, but to also open yourself up for receiving. You deserve it.
Libra
September 23rd - October 22nd

Though you never love to be forced into a decision, this has been a time when you need to act on defining the true desires of your heart, not just doing what will make people happy. Because of that, this month draws you into a series of decisions where you must own what those desires are, rather than trying to appease others. Though that may make for some uncomfortable moments, the good news is that you're clearing out what is no longer needed to draw in more aligned relationships.
Scorpio
October 23rd - November 21st

Secrets recently revealed to you might have you healing from a broken heart. You feel deeply, and thus you don't open yourself easily to life even when it promises a temporary joy. But this month, life is really asking you to open yourself to new possibilities as magic returns to your heart. This could be in the form of a long-unmet heart's desire. Let love surprise you.
Sagittarius
November 22nd - December 21st

Though it's been a few years of having to uproot your big dreams, now is a time to re-grow them. This month is a great time for not only dreaming big again, but really zeroing in on your material reality to plan for funding those dreams. This is an excellent opportunity to involve your lover or one of your trusted loved ones in the process and begin brainstorming the next adventure.
Capricorn
December 22nd - January 19th

You've recently gone through a time of reconfiguring your desires and it's cause for huge change. The good news is that it's finally time to celebrate all the hard work—and how better to do that than to receive your heart's desires? This month brings high-quality connection and a passionate physical connection into your love life. Sometimes, the real deal is worth the wait.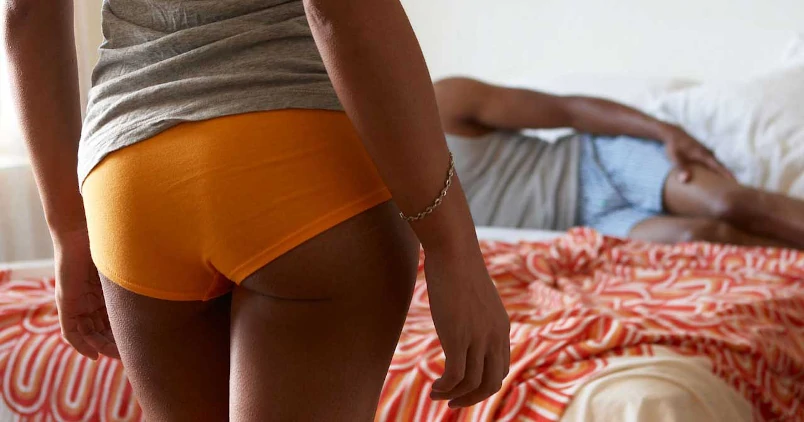 Subscribe to Frisky Fridays
Heat up your weekends with our best sex tips and so much more.