February 2023 horoscopes: Out with the retrograde, in with the new
Passion and adventure rule this month
It's a new month, love is in the air, and for the first time in nearly a year, exactly zero major planets are retrograde. Things are looking up! The cosmic momentum is flowing throughout February, making this a fabulous time to pursue new projects, relationships, or birth control options (wink!). Get the astrological scoop on Valentine's Day and beyond with your February horoscope.
Aquarius
January 20th - February 18th

Happy birthday season, Aquarius! The full moon on February 5 brings relationship matters to a climax, so give yourself and your partners room to express feelings, even if they change on a dime. Your social life picks up mid-month, so schedule some conversation-friendly dinner dates or send some flirty texts to a potential valentine. Just make sure your plans are both socially and sensually stimulating. You need the best of both worlds!
Pisces
February 19th - March 20th

You're irresistibly enchanting to everyone you come across right now, Pisces—and that's thanks to seductive planet Venus gracing your sign throughout the first few weeks of the month. Channel your inner love goddess and enjoy this magical prelude to Pisces season! The new moon on February 20 is the perfect day to make a birthday wish and manifest your heart out, so cast a spell or set your sexiest intentions.
Aries
March 21st - April 19th

A sexy full moon on February 5 lights up the potential for passion in and out of the bedroom. Bring a budding romance into full bloom or breathe some life into a creative endeavor. Romance is still alive and well post-Valentine's Day, as amorous Venus enters your sign on February 20. This cosmic glow-up boosts your manifestation powers in love, meaning you can attract anything (and anyone) your heart desires.
Taurus
April 20th - May 20th

Your schedule is packed with career action and social obligations, Taurus—but that doesn't mean it's all work and no play! An unexpected fling or sudden flicker of passion could promise some excitement ahead of Valentine's Day, while the new moon on February 20 encourages you to embrace your extroverted side. You never know what inspiring people you might meet when you say yes to a spontaneous night out.
Gemini
May 21st - June 20th

Libidinous planet Mars continues blazing through your sign all month, fueling your sexual fire and turning up the heat on your personal goals. Passion is sexy, so don't be afraid to make the first move and chase after what you want. Come February 20, Venus sweetens up your social life—so introduce a new lover to your crew or strike up a flirtation with a friend of a friend.
Cancer
June 21st -July 22nd

Traditional Valentine's Day celebrations are fun and all, but you're craving something more adventurous now, Cancer. Doing something fresh and daring with your lover can spice up your relationship and shift your perspective. The new moon on February 20 inspires you to let your inner daredevil loose and get experimental in the bedroom. Taking a risk is fun sometimes—unless we're talking about birth control, of course!
Leo
July 23rd - August 22nd

Relationships are taking center stage all month, Leo, and your love life is buzzing with planetary activity. Look forward to lots of opportunities to make romantic commitments, talk about your feelings, or deepen intimacy levels with a current lover. While partnerships are a big theme, the full moon in your sign on February 5 reminds you that prioritizing your own needs and desires is equally paramount.
Virgo
August 23rd - September 22nd

Your love life is picking up steam this month, Virgo, so set some time aside to focus on relationships. The Valentine's Day astro-forecast looks especially dreamy, so indulge your inner romantic and allow yourself to be whisked away into a rose-colored fantasy. The new moon on February 20 could catalyze new levels of commitments in current relationships, or even bring a potential new partner into the picture.
Libra
September 23rd - October 22nd

It's time to get your flirt on, Libra. The full moon on February 5 lights up your social life, inspiring you to hit the town for some pre-Valentine's Day festivities with friends. By mid-month, romantic connections are popping up left and right, so message some sexy strangers on a dating app or brainstorm some fun new date ideas that could inject more passion into a current relationship.
Scorpio
October 23rd - November 21st

Your sex drive and desire for intimacy are revving their engines, Scorpio, so enjoy the carnal intensity and seek out someone who's down to get deep with you in every way. The new moon on February 20 is a good time to come up for air, as it brings fresh inspiration and fun flirtations. Balance the scales by embracing a more playful attitude in relationships for the remainder of the month.
Sagittarius
November 22nd - December 21st

The full moon on February 5 brings the refreshing blast of adventure you've been craving, Sagittarius. Take a joyride with your lovers and fulfill your wildest fantasies. You're in the driver's seat in your relationships right now, so the initiative is yours to take! Your love life gets a boost come February 20, as all sorts of new opportunities will arise in the realms of dating and romance.
Capricorn
December 22nd - January 19th

Surface-level love won't cut it this month, Capricorn. Taboo topics become dinner table talk under the full moon on February 5, so get real in relationships and be honest about your deepest desires. Valentine's Day will be sexy, but romance is even more intense during the week following. Any new connections made will feel extra potent, while established relationships could reach new levels of intimacy. Enjoy the sensual, spiritual vibes.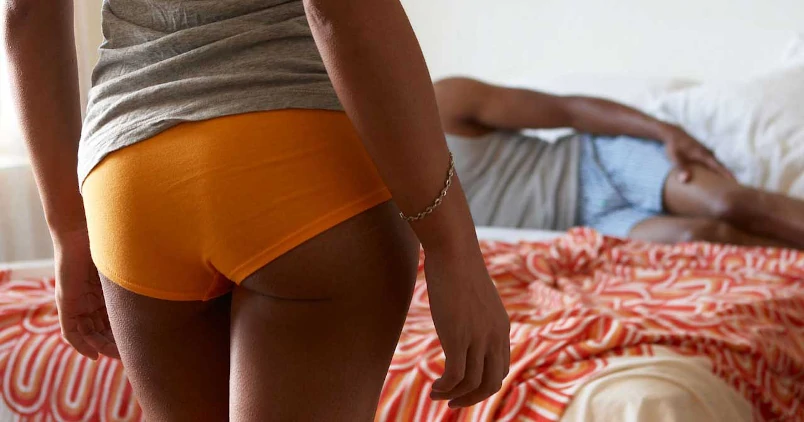 Subscribe to Frisky Fridays
Heat up your weekends with our best sex tips and so much more.