March 2023 horoscopes: So fresh and so fun, fun
New season, new beginning
March brings the start of spring and the astrological new year, so fresh, fun, and flirty vibes are aplenty. And with zero planets retrograde, we're on the fast-track toward whatever magic we put our minds to. However, there are some major planetary shifts on the horizon, too—as lusty Mars, power-hungry Pluto, and commitment-focused Saturn are all switching signs this month. New beginnings are all around us, so let's manifest a sexy spring!
Pisces
February 19th - March 20th

Happy birthday season, Pisces! The full moon on March 7 spices up your love life with some exciting and unexpected twists. Use the lunar momentum to release any bad habits that have built up in your partnerships. Saturn enters your sign the same day, meaning it's time to do some growing up and glowing up. You're learning to get more real with yourself and others—and everything from relationships to your sex life will level up because of it.
Aries
March 21st - April 19th

Lover planet Venus is in your sign for the first half of the month, giving you an irresistibly attractive sparkle. Along with heightened romance comes big feelings, but that's okay—your sensitive side can be sexy, too. Embrace it! It's officially party time once Aries season rolls around on March 20, and with the energizing new moon in your sign, the following day is the perfect time to make an exciting birthday wish.
Taurus
April 20th - May 20th

You've been busy with work and social obligations, but the full moon on March 7 pulls you out of your shell and puts you in a flirty mood. Make time in your schedule for some date nights or get dolled up to hit the town with friends. Once amorous Venus enters your sign mid-month, your sensual powers take center stage. Channel your inner love goddess and enjoy the rush of luxuriously romantic energy.
Gemini
May 21st - June 20th

If you want to make the first move or otherwise act on your desires, do it during the first few weeks of the month, while red-hot Mars is still in your sign. Passion is on your side! The later part of March marks a quieter time in your love life, but an influx of social energy will distract you from any dry spell. Have fun without putting pressure on romance—more excitement is just around the corner.
Cancer
June 21st -July 22nd

Career goals and personal aspirations have your attention now, Cancer—but once passion-fueled Mars enters your sign on March 25, you'll feel even more empowered and ready to conquer. And this cosmic mojo-boost applies to your love and sex life, too! By the end of the month, you'll be feeling bold enough to tell your crush your true feelings or set stronger boundaries in relationships. You're unstoppable.
Leo
July 23rd - August 22nd

This month is all about exploration, Leo—whether you're diving into your deepest carnal desires or taking an adventurous weekend getaway. Shed your fears and unleash that inner lion! The full moon on March 7 is a time to treat yourself, so indulge in sensual pleasures and luxurious affairs. By the time the new moon rolls around two weeks later, be ready to exit your comfort zone and try new things, both in and out of the bedroom.
Virgo
August 23rd - September 22nd

Relationships are a big theme this month, but the energizing full moon on March 7 reminds you to put yourself first and prioritize your needs. You're beginning to explore what you really want to commit to in love, so it's important to stay in tune with yourself! Romantic fantasies come alive mid-month, leading to dreamy conversations with a lover and casting a lavender haze over your relationships. Enjoy the magic.
Libra
September 23rd - October 22nd

Your relationships are taking center stage now, Libra—so enjoy time with a partner or crush and be open to strengthening your commitments. During the latter half of the month, you may have the urge to peel back the layers of your romantic connections and get a little deeper. Up the intimacy and find the value in vulnerability. The fiery new moon on March 21 is bringing tons of fresh energy and opportunity into your love life, too.
Scorpio
October 23rd - November 21st

Romance is in the air for you, Scorpio, so it's a good time to peep the scene in a dating app or schedule some sexy playtime with a partner. Whether you're looking for a lighthearted fling or deep commitment, your love life is ripe with potential—and the beginning of spring brings an especially magical moment of destiny. Fateful revelations or chance encounters could alter the course of your current partnerships or usher in powerful new ones.
Sagittarius
November 22nd - December 21st

Ready to have some fun, Sagittarius? This month is all about dating, pleasure, and good times in the bedroom—so check your inhibitions at the door and enjoy the flirtatious magic! The red-hot new moon on March 21 is the perfect time to dive into a spontaneous fling, say yes to an impromptu date, or do something bold to bring a sexy spark back into an existing partnership.
Capricorn
December 22nd - January 19th

The full moon on March 7 lights up your desire to try new things and live life on the wild side, so grab your lover and do something adventurous. It's time to break out of your routine! Your love life gets a major energy boost mid-month, so take advantage of the influx of romantic prospects by being more assertive about what you want. You're catching eyes in a big way, so if you see something you like, say so.
Aquarius
January 20th - February 18th

You're evolving from the inside out, Aquarius—as transformational Pluto dips into your sign this month for the first time since the 1700s. Prepare to start a deep-dive into the most intimate corners of your psyche! A little flirtatious fun will lighten the intensity, especially under the feisty new moon on March 21. Text your crush, dirty talk your lover, or stay up late chatting about life with someone special.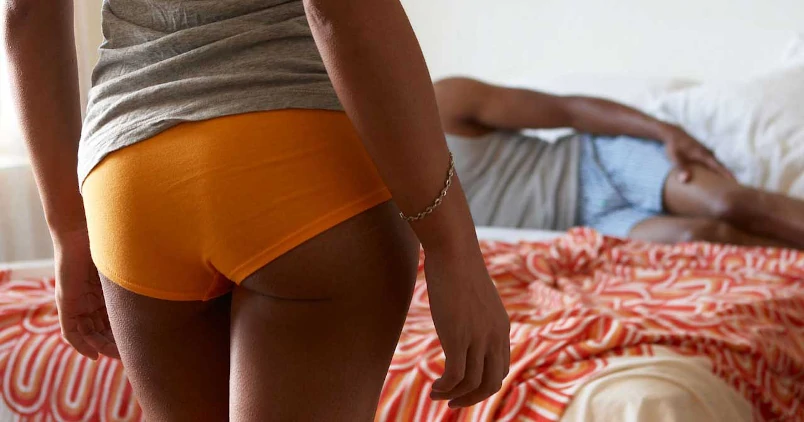 Subscribe to Frisky Fridays
Heat up your weekends with our best sex tips and so much more.