April 2023 horoscopes: The calm before the showers
Happy birthday, Aries!
Flowers are blooming, hot girl walks are resuming, and potential spring flings are popping up all around us. Life is good! Just keep in mind that there are a few major astrological April showers in the cosmic forecast, too. The first eclipse of the year is on April 19 (PT)/April 20 (ET), which plunges us into the chaotic portal of eclipse season. The planets' retrograde-free-streak comes to an end once Mercury retrograde hits one day later, kicking off three weeks of communication clashes, timing issues, and tech glitches. Bust out your cosmic umbrellas—but don't forget to grab your lover and do some dancing in the rain, too.
Aries
March 21st - April 19th

Happy birthday season, Aries! The solar spotlight is on you this month, but the energetic full moon on April 5 (PT)/April 6 (ET) pushes your focus onto relationships. Tensions with partners may be high, so embrace your softer side to avoid any full moon drama. Two weeks later, the solar eclipse in your sign ushers in massive new beginnings, swinging open doors of opportunity in love, career, and beyond.
Taurus
April 20th - May 20th

Lover Venus blesses your sign with a treasure trove of romance and sensuality throughout the first third of the month, so indulge in whatever delights your senses. This applies to the bedroom and the dinner table alike! These "treat yourself" vibes rage on once Taurus season hits on April 20, so plan something extra luxurious for your birthday. Just beware of awkward texts or reappearing exes once Mercury retrograde hits your sign the very next day.
Gemini
May 21st - June 20th

The romantic full moon on April 5 (PT)/April 6 (ET) is the perfect time to plan a passionate night with a lover or ask a crush to accompany you to a fun social event. Love gets even sweeter mid-month when amorous Venus enters your sign, so unleash those Gemini flirtation powers! Keep in mind, though, that between Mercury retrograde and the eclipse in late April, everyone may be feeling a little sensitive in relationships—so some extra gentleness on your part can go a long way.
Cancer
June 21st -July 22nd

Lusty planet Mars is in your sign all month, firing up your libido and making you extra feisty and forward when it comes to getting what you want. No hiding out in that crab shell, Cancer—check your birth control, take the reins, and make the first move! This is also a lively month for your social life, so introduce a lover to your crew or go flirt with your friends' hot friends. Just beware of Mercury retrograde mix-ups starting April 21!
Leo
July 23rd - August 22nd

A romantic full moon kicks off the month, inspiring you to speak your truth and get your flirt on. You've got big things to say, so start talking, Leo! The solar eclipse two weeks later brings new adventures rushing in. Your tastes may be changing, so keep an open mind (and heart) in love, sex, and beyond. Later in the month, Mercury retrograde could cause stress at work, but a few fun nights out might offset the frustrations.
Virgo
August 23rd - September 22nd

Embrace your sensual side under the full moon on April 5 (PT)/April 6 (ET), as this lunation brings your pleasure potential to a climax. There's nothing wrong with a little indulgence, Virgo! Sugary Venus enters your career sector mid-month, so look out for a workplace flirtation or a meet-cute with someone in a similar field. Once Mercury retrograde kicks off on April 21, a long-lost lover or faraway fling could come flying back into your orbit.
Libra
September 23rd - October 22nd

April kicks off with a gorgeous full moon in your sign, encouraging you to share your feelings and ensure your needs are being met in relationships. Now's the time to find balance with partners—which means that prioritizing yourself equally is a must. Two weeks later, the solar eclipse floods lots of exciting new energy into your love life. You're kicking off an important journey when it comes to partnerships, so keep rolling with the quickly changing tides.
Scorpio
October 23rd - November 21st

This is an important month when it comes to communication within your relationships, Scorpio, as you may have conversations that'll help to clarify your romantic destiny. Don't be afraid to get deep and reveal your true feelings! That said, you may need to revisit and rehash some of these heart-to-hearts once Mercury retrograde starts on April 21. Let go of expectations, as these life-changing moments require patience.
Sagittarius
November 22nd - December 21st

Your lustiness and passion levels are soaring throughout April, Sagittarius, so make sure you have your birth control methods on lock. Your love life is especially charmed come mid-month, so use this lucky streak to take a chance on someone new or bring a sexy spark into a current partnership. The solar eclipse on April 19 (PT)/April 20 (ET) fills you with inspiration, opening doors to new romantic conquests and creative endeavors, too. Follow your heart's desires!
Capricorn
December 22nd - January 19th

The first week of April is great for lighthearted romance—and scheduling some sexy playdates or flirty date nights can help alleviate any full moon drama unfolding in your home or work life. Come April 21, Mercury retrograde could light up an old flame or reignite a sexy text convo that you'd thought had fizzled out. Stay open to a romantic blast from the past, but for the time being, keep it no-strings-attached.
Aquarius
January 20th - February 18th

Let's get wild, Aquarius! The full moon on April 5 (PT)/April 6 (ET) brings out your adventurous side, inspiring you to take risks and ditch your comfort zone. By mid-month, your dating life gets an inspired glow-up. No one will be immune to your witty, creative charms—not even Mercury retrograde can tarnish your flirtation game. The solar eclipse on April 19 (PT)/April (20) ET will help you find your voice, so prioritize authentic self-expression.
Pisces
February 19th - March 20th

The full moon on April 5 (PT)/April 6 (ET) may feel intense, as it encourages you to get real about your hidden desires. Remember: letting go of shame is sexy, Pisces! You're feeling especially bold when in romance this month, so channel the post-full-moon lightness by asking someone out or otherwise making moves toward your passions. Communication could get dicey once Mercury retrograde starts on April 21, so be extra thoughtful with your words.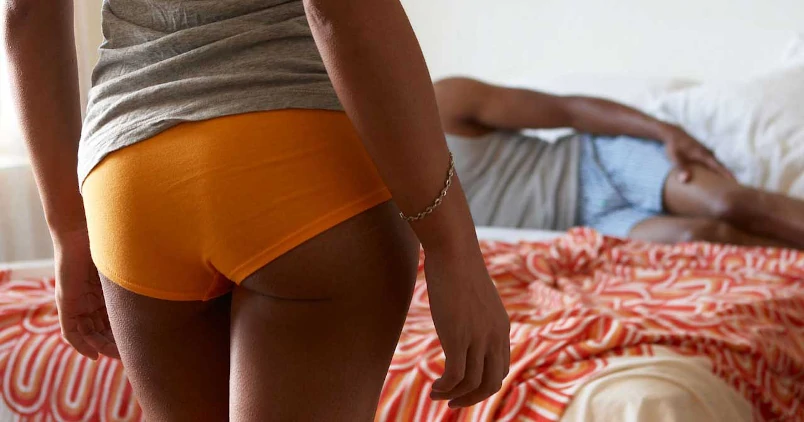 Subscribe to Frisky Fridays
Heat up your weekends with our best sex tips and so much more.