August 2023 horoscopes: Once in a blue moon
Lead with love this leo season
Summer is heating up, and so is August's cosmic drama! Romantic planet Venus is retrograde all month long, spinning some chaos and confusion into our love lives—but also giving us an opportunity to reevaluate our relationships. Speaking of confusion, Mercury retrograde is back as of August 23. Double check those texts (and sexts) before sending! To top it all off, we have not one but two full moons this month, so prepare for a once-in-a-blue-moon moment as you enter August.
Leo
July 23rd - August 22nd

Happy birthday season, Leo! Amorous Venus is retrograding through your sign all month, so you're reexamining what you want and don't want out of love. Ditch the negative self-talk and toxic situationships stat! The passionate mid-month new moon is the perfect time to make a birthday wish and find some clarity in a confusing romantic situation. By the time the blue moon peaks on August 30, it's time to let go of your hang-ups and embrace your heart's true desires.
Virgo
August 23rd - September 22nd

Sexy Mars is in your sign for most of this month, giving you a much-needed mojo boost. This take-charge energy comes in handy, as some unexpected adventures may unfold in your love life mid-month! Once Virgo season starts on August 23, step into the spotlight and embrace your confidence. Just remember that Mercury retrograde starts the same day, so be extra flexible about your plans. The romantic full moon on August 30 is the perfect time to emotionally connect with a partner and put your feelings on the table.
Libra
September 23rd - October 22nd

An ultra-passionate full moon kicks off August, bringing flings and flirtations to an exciting climax. This is the perfect opener to a few super social and romantic weeks ahead, Libra! Keep in mind that Venus retrograde could bring old friends and old flames back into your life—especially under the mid-month new moon—so keep a lighthearted attitude in love and let yourself go with the flow. Lusty Mars enters your sign during the last week of August, reminding you that you're allowed to take charge and chase after your desires.
Scorpio
October 23rd - November 21st

Social and professional obligations have you booked and busy this month, Scorpio—but that doesn't mean you won't have time for romance! Get your flirt on while you're out with friends and let off any retrograde-related steam in the bedroom with your lover. Once the end of August rolls around, Uranus retrograde can help you process unexpected shifts that may have rocked your relationships lately. The gorgeous full moon on August 30 inspires you to manifest your dreamiest date nights and prioritize your passions.
Sagittarius
November 22nd - December 21st

This month begins with a flirty full moon that'll help you talk through your feelings and work through unexpected relationship issues. Two weeks later, an adventurous new moon inspires fresh perspectives and hopeful breakthroughs in love, so keep an open mind and heart. Just beware of drama as you approach Mercury retrograde on August 23, Sagittarius—sexy temptations and overindulgences may wind up getting a little messier than expected!
Capricorn
December 22nd - January 19th

The full moon on August 1 inspires you to prioritize your pleasure above all else, Capricorn, so indulge in all that you desire! Broadening your horizons is a big theme for you now, so it's a great time to get adventurous in the bedroom, say yes to your excitement, and embrace surprises in love—especially under the passionate mid-month new moon. Mercury is retrograde again by the end of the month, but the blue moon on August 30 will help you put your feelings into words.
Aquarius
January 20th - February 18th

Relationships are a big theme for you this month, Aquarius, as you're fully reexamining what you value and desire in a partner—but the full moon in your sign on August 1 reminds you that the sexiest qualities in a relationship are freedom and independence! By mid-month, a confidence-building new moon brings opportunities to turn over a new leaf in love and push past previous challenges. Mercury retrograde starts August 23, sending you into a review of your deepest feelings and desires. Get real with your inner truth.
Pisces
February 19th - March 20th

The full moon on August 1 puts you in touch with your fantasy world, Pisces, so grab your favorite toys and get lost in a sexy daydream. But don't get too vibed out, as lusty Mars is lighting up your relationship sector for most of the month—making it a fabulous time to take initiative with your lover and fight for what you desire. Things wrap up with a special blue moon in your sign on August 30, presenting the perfect opportunity to manifest all your dreams into reality.
Aries
March 21st - April 19th

This month promises plenty of flirtatious fun for you, Aries—and the full moon on August 1 is the perfect opening act. Go out on the town and party with your friends. Two weeks later, the new moon brings fresh flings and potential lovers into your midst. Mercury retrograde could throw a wrench in your schedule come August 23, though, so be flexible if you're trying to plan a date night! The month wraps up with sexy Mars hitting your relationship sector, heating things up in partnerships and boosting your libido. Make sure your birth control methods are solid gold.
Taurus
April 20th - May 20th

Professional wins may steal your attention under the full moon on August 1, but don't sleep on the sexy opportunities that carnal Mars is manifesting in your love life throughout most of August. Now's the time to chase down your passions and grab the reins in romance! Once Mercury retrograde starts on August 23, you may find yourself swiping right on a ghost of dating apps past or rekindling old flames. Stay open to unexpected changes of heart—the universe might surprise you!
Gemini
May 21st - June 20th

This month brings fun flirtations and stimulating exchanges, Gemini—and it kicks off with a fabulous full moon on August 1 that'll light up your taste for adventure. Put that open-minded energy to good use under the mid-month new moon, as you revisit past relationship conversations with a fresh perspective. During the final week of August, lusty Mars turns up the heat and passion in your love life, so don't be afraid to make the first move in the bedroom or on a dating app.
Cancer
June 21st -July 22nd

The full moon on August 1 puts your deepest feelings and fears on the table, Cancer, making space for more intimacy and openness in relationships. Embracing your truth is building your confidence now—and nothing is sexier than that! Flirtation levels go through the roof come August 23, but be choosy with your words, as Mercury retrograde could mix your signals. Finally, a dreamy blue moon wraps up the month with romance and magic. Say yes to a date night with your lover or a sexy someone who's recently caught your eye.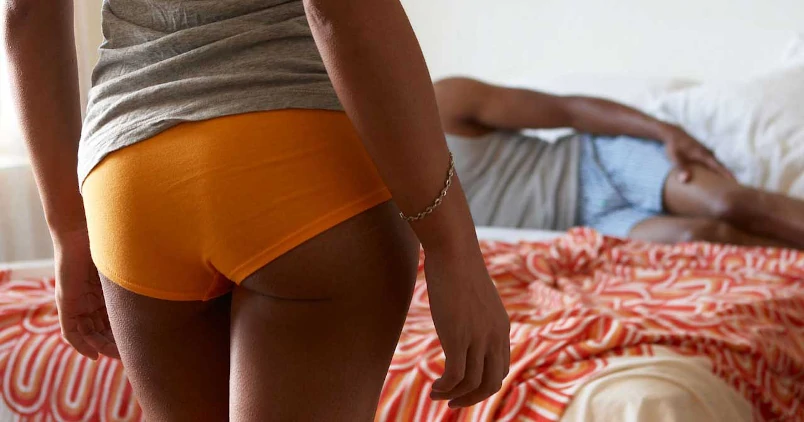 Subscribe to Frisky Fridays
Heat up your weekends with our best sex tips and so much more.