September 2023 horoscopes: Change is in the air
It's virgo season
In case you hadn't noticed, both amorous Venus and mental Mercury have been retrograding recently, mixing signals in relationships, communication, and beyond. But the cosmic skies are finally clearing as September's astrology finally brings an end to both backspins—and in turn, an exciting feeling of forward movement within our love and sex lives. It's time to squeeze the last few drops out of your summer flings too, as we kiss the season of sunshine goodbye and prepare to usher in the fall equinox on September 22nd/23rd. Change (and romance) is in the air!
Virgo
August 23rd - September 22nd

Happy birthday season, Virgo! Mercury is retrograding in your sign through the first half of the month, so take flirtations slow and be extra flexible when planning dates. However, prepare for the heat to turn up mid-month! The new moon on September 14th is the perfect time to make a dreamy birthday wish, and with the retrograde ending the following day, you'll be ready to make the most of the momentum toward your desires. The intense full moon on September 29th is a great time for a passionate intimate encounter, so pencil in a steamy overnight with your favorite lover.
Libra
September 23rd - October 22nd

Sexy Mars is in your sign all month long, giving you a major mojo boost and lighting a fire under your desires. Now is the time to make bold moves and chase what you want! Harness this take-charge energy as you welcome Libra season on September 22nd/23rd. The solar spotlight will be on you for the next month, so soak up the influx of attention. September wraps up with a sexy full moon in your relationship sector, which could rev up the passion with a partner—and maybe inject a little drama into your romantic life, too.
Scorpio
October 23rd - November 21st

The last weeks of summer are upon us, so spend your days enjoying your social scene and getting your flirt on—especially under the exciting new moon on September 14th. You never know when you might meet a sexy someone through a friend or at a local event, so put yourself out there! Once the fall equinox hits, you might feel like embracing a slower and more transitional pace, so lean into self-pleasure and don't feel bad about putting your booty calls on a temporary hold. They'll be extra eager to see you once you've recharged your sexual batteries.
Sagittarius
November 22nd - December 21st

Work obligations will have you busy through the first half of the month, but make sure you're not neglecting your love life, Sagittarius! Once Venus retrograde ends on September 3rd, you'll be fully ready to embark on exciting romantic conquests and perhaps even venture into new territory in the bedroom. Use this adventurous energy to let off some sensual steam leading up to a socially stimulating fall equinox! The month wraps up with a fiery full moon, which will inspire you to connect with a partner or perhaps spark some chemistry with someone new.
Capricorn
December 22nd - January 19th

The first weeks of September will ignite your thirst for excitement and new adventures—in love, sex, and beyond. Keep an especially open mind under the mid-month new moon. Expand your horizons by pushing past your emotional comfort zone with a partner, trying a new position in bed, or taking a chance on someone new. Your career takes center stage once the fall equinox hits on September 22nd/23rd, but be sure to balance your public responsibilities with plenty of private conversations and intimate encounters with your lovers.
Aquarius
January 20th - February 18th

Venus has been retrograding through your partnerships sector for six weeks, bringing up past love dramas and shifting your feelings on commitment. But once that ends on September 3rd, you'll have a clearer idea of what you want and how to move forward. Make time to reflect. The mid-month new moon pulls you even deeper into your true desires, inspiring you to share your inner hopes and fears with a lover. This may be a heavy week, but once the fall equinox hits, it's adventure time! Think outside the box when it comes to love and say yes to whatever brings you a sense of excitement.
Pisces
February 19th - March 20th

Relationship drama and developments are commanding your attention this month, Pisces, and the new moon on Sept. 14 is a great time to turn over a new leaf with a current lover or open your heart to a meaningful new connection. Get real about the desires that linger beneath the surface of your partnership(s), especially once the fall equinox rolls around! The change in season will prompt you to get introspective about love, sex, and boundaries. Shake off some of the heaviness by embracing purely sensual pleasures under the red-hot full moon on September 29th.
Aries
March 21st - April 19th

Venus retrograde wraps up on September 3rd, giving you a glittering boost of momentum when it comes to your sex life and reigniting simmering flirtations. Passionate Mars is lighting up your relationship sector all month, so take the lead when it comes to making moves or initiating next steps with your partner(s). There's lots of cosmic energy swirling into your love life over the coming weeks, so getting ahead of the game is a good idea! The month wraps up with a feisty full moon in your sign, inviting you to bring your brightest and boldest romantic desires to the table.
Taurus
April 20th - May 20th

Your romantic life might feel a little messy during the first half of the month thanks to Mercury retrograde, so waiting until mid-month to schedule any sexy rendezvous or flirt fests could serve you well. That's because the dreamy new moon on September 14th lights up fresh dating prospects, promising a renewed sense of passion and inspiration—and the retrograde ends the very next day. Luck is on your side through the rest of the month, so if you need to make any big post-retrograde moves within your relationships, now's the time!
Gemini
May 21st - June 20th

Your ruling planet Mercury is retrograding through September 15th, Gemini, but this month brings lots of opportunities to start patching up any romantic miscommunications. Send that "let's talk" text and finally clear the air. Passionate Mars is lighting up your sex and dating sector, turning up your libido to full brightness. Once you and your lover(s) are effectively getting through to each other, it's showtime! Take this fun and flirtatious energy and set it free under the full moon on September 29th, which is the perfect time to mingle with hot strangers or introduce your crew to your boo.
Cancer
June 21st -July 22nd

As we round out the final weeks of summer, Cancer, you're feeling especially social and open to connection. Fun and flirty convos can happen anywhere from the coffee shop to the office water cooler—especially under the powerful new moon on September 14th! Just keep in mind that Mercury's retrograde could cause communication mix-ups that could mess with the vibes until mid-month. During the latter half of September, it'll be much easier to spark emotional connections, talk through feelings in relationships, and enjoy some social time with your lovers and friends.
Leo
July 23rd - August 22nd

After six weeks of retrograding, Venus is finally moving forward in your sign as of September 3rd, so expressing your desires and attracting what you want is as easy as 1, 2, 3! The mid-month new moon is an ideal time to lean into sensuality and pay attention to what makes your body feel good. Couples' massage, anyone? Once the fall equinox hits on September 22nd/23rd, you'll be feeling extra flirty and social—so do something adventurous (and maybe a little freaky) to celebrate the full moon that rises at the end of the month!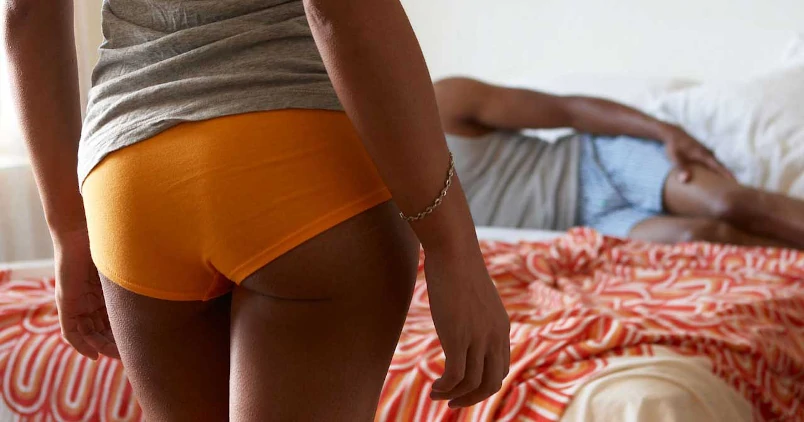 Subscribe to Frisky Fridays
Heat up your weekends with our best sex tips and so much more.