October 2023 horoscopes: Shaking things up
Happy birthday season Libra
The spookiest stretch of retrograde season is behind us and we're collectively ready to embrace all things pumpkin spice. But wait—boo! 👻 October's astrology is serving up two back-to-back eclipses that have the power to shake up our lives in a big way. With cuffing season approaching simultaneously, you'll want to be prepared for any sudden shake-ups when it comes to love, sex, and beyond. Get your birth control in check to avoid any jump scares—because weathering two eclipses in one month is freaky enough!
Libra
September 23rd - October 22nd

Happy birthday season, Libra! With the solar spotlight on you, your confidence is shining—and you may not even realize it, but it's irresistibly enchanting to everyone around you. Stand tall in your self-worth! The solar eclipse in your sign on October 14th floods you with opportunities to level up and get even more comfortable in your skin. Two weeks later, an intense full moon eclipse plunges you deep into the most sensitive parts of your relationships, encouraging you to let go of secrets and shame and embrace desire. Vulnerability is sexy, so go with it.
Scorpio
October 23rd - November 21st

The month will start off a little quiet, but you'll be ready to put yourself out there once flirtatious Venus starts lighting up your social life on October 8th. Expect a mojo boost mid-month, too, as libidinous Mars hits your sign and blesses you with a red-hot surge of passion and initiative. Once Scorpio season starts on October 23rd, let all that confidence sparkle and shine. Make a romantic birthday wish under the end-of-month full moon eclipse, which has the potential to spark major shifts in your love life.
Sagittarius
November 22nd - December 21st

Fall has you in the mood to flirt, Sag! Take advantage of the vibes by hitting the town with friends and putting yourself out there, especially under the solar eclipse on October 14th. You might connect with some free-thinking new friends—or perhaps meet a special someone who inspires you to forget the past and look toward the future. Your social battery might feel a little drained later in the month, so reserve your energy by spending extra time in bed. Self-pleasure is highly recommended during this time.
Capricorn
December 22nd - January 19th

Career matters may demand your attention this month, Capricorn, but there's always time for pleasure! Starting October 8th, flirtatious Venus lights up your taste for adventure, so be more open-minded in matters of love and romance. Getting experimental in the bedroom is ideal now, too. Meaningful romantic connections and sexual tensions could bubble up under the passionate lunar eclipse at the end of the month. Your Halloweekend is set to be steamy.
Aquarius
January 20th - February 18th

The first week of October is ripe with romance and excitement, but you may find yourself craving something deeper from relationships soon after. Your love and sex life should ignite your mind, heart, and spirit alike—so don't settle for something that doesn't fully satiate your desires. New perspectives could emerge under the solar eclipse on October 14th, so stay open! Heavy feelings are aplenty right now, so make sure to tend to your heart's needs under the emotional lunar eclipse two weeks later.
Pisces
February 19th - March 19th

The month kicks off on a sensitive and vulnerable note, Pisces, so be present with your many feelings! On October 8th, amorous Venus floods your love life with sweetness and harmony. This is a great time to seek clarity around any current romantic commitments or focus on manifesting your ideal relationship. Watch as your emotions heighten and your desires deepen during the mid-month solar eclipse—but know that thankfully, the full moon eclipse two weeks later brings a meaningful opportunity to talk things through and speak openly with your partner(s).
Aries
March 20th - April 19th

Love is a big theme right now, Aries, so focus on addressing imbalances in your romantic life and building trust with your partner(s). By mid-month, you're ready to dig deeper into your desires and get real with feelings—and thankfully, the October 14th new moon eclipse will help you push past any secrets or stagnation in your relationships. Purge it all! Emotions are definitely running high, but the pre-Halloween lunar eclipse brings an opportunity to embrace raw sensuality. Turn your brain off and turn your pleasure receptors on.
Taurus
April 20th - May 20th

Love is in the crisp autumn air, Taurus! Amorous Venus hits your sex and dating sector starting October 8th, so be open to a fun fling or plan a romantic evening with a lover that cranks up the heat on your connection. Lusty Mars lights up your partnerships with its sexual energy a few days later, meaning any first moves are officially yours to make. The month wraps up with a powerful full moon eclipse in your sign. You can use its magic to flush out old insecurities and get real with your desires.
Gemini
May 21st - June 20th

Flirting is one of your superpowers, Gemini—and the first few weeks of October bring you plenty of opportunities to flaunt those irresistible charms. (Let's just say staying on top of your birth control is definitely a good idea!) The new moon eclipse on October 14th kicks off a new era when it comes to your heart's true passions and desires, so look out for a fateful fling, a meaningful meet-cute, or a flood of inspiration. Two weeks later, the pre-Halloween lunar eclipse offers a magical moment to get witchy and spend some quality time with yourself.
Cancer
June 21st -July 22nd

These autumnal vibes have you in the mood to cuddle at home with a PSL, but by mid-month, things are heating up! That's when carnal Mars hits your romance sector, boosting your libido and making you extra forward in the bedroom. No need to be passive about your pleasure now, Cancer. The last third of the month is a great time to talk through your needs with your lovers and initiate important conversations about your heart's desires.
Leo
July 23rd - August 22nd

The first week of October hits you with a burst of luck and romance, Leo. Look forward to mystical moments with an existing partner or a powerful spiritual connection with someone new. Some important texts—or steamy sexts—might come at you during the solar eclipse on October 14th, so be prepared to communicate about your desires! Get your flirt on now, because the full moon eclipse two weeks later will shift your focus onto other priorities.
Virgo
August 23rd - September 22nd

Maybe it's this crisp autumn air, but you're feeling especially sensual this month. Indulge in earthly pleasures, especially once romance planet Venus hits your sign on October 8th. You have the power to attract any lovers or luxuries that catch your eye, so turn on the charms. It's time to level up! The lunar eclipse on October 28th prompts you to let go of closed-minded beliefs or perspectives that are holding you back from exploring new horizons. You've got luck on your side, Virgo, so wave that magic wand.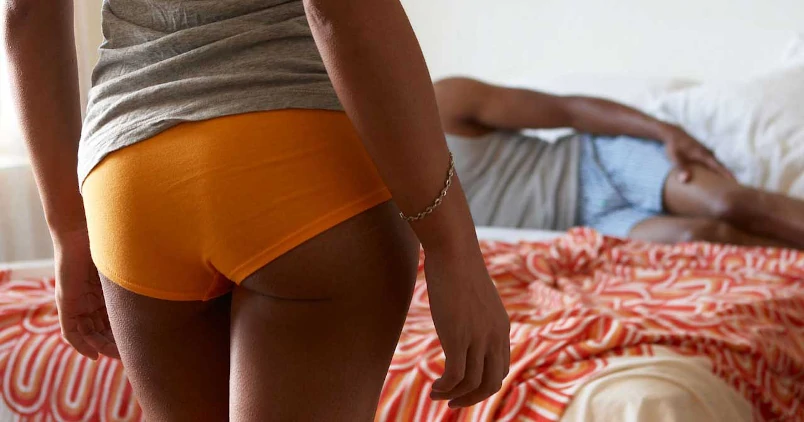 Subscribe to Frisky Fridays
Heat up your weekends with our best sex tips and so much more.