November 2023 horoscopes: Tap into your romantic desires
Things are getting steamy
Congratulations: We've officially survived eclipse season! But whether our love lives have come out the other side intact is another story entirely. Thankfully, Venus and Mars—aka the love and sex planets—will spend most of November in their home-base signs, making it much easier to tap into our romantic desires and passionate instincts alike. The astrology of November is set to be steamy, so if you still need to secure yourself a cuffing season playmate, now's your chance!
Scorpio
October 23rd - November 21st

Happy birthday season, Scorpio! The cosmic spotlight is on you for the coming weeks and your seductive energy is especially magnetic, so it's time to boldly take your place at center stage. Make a birthday wish under the new moon on November 14th—but brace for sudden relationship shake-ups that could shift your perspective. Two weeks later, an intense full moon highlights any messy emotional entanglements that have been siphoning your precious energy. You know your worth, so summon the strength to walk away from anyone who doesn't.
Sagittarius
November 22nd - December 21st

The first week of November is a good time to recharge your personal batteries (and drain the charge on your vibrator's) because this cosmic rest period won't last long. Energies start picking up under the mid-month new moon, and group outings with friends could lead to some sweet meet-cutes and exciting flirtations. But the real party starts on November 22nd, when Sagittarius season begins. The month ends with a dramatic full moon in your relationship sector, pushing you to speak up about your desires and fight for more freedom in your love life.
Capricorn
December 22nd - January 19th

Don't be surprised if a friendship starts developing some benefits or a workplace flirtation gains traction this month. Chemistry often strikes when you least expect it—and bending the rules can be sexy sometimes, don't you think? Speaking of rules, the new moon on November 13th activates your rebellious streak, so grab your squad and go paint the town red. The end of the month is a good time to clean up your calendar in preparation for hot holiday parties and dreamy December date nights. After all, Capricorn season is just around the corner!
Aquarius
January 20th - February 18th

Your energy levels might be low going into the month, so browsing dating apps from bed might feel more desirable than actually leaving the house to meet someone. But prepare to have some fun during the latter half of the month, because you'll be feeling more and more adventurous as the days pass! Your inner wild-child is awake and ready to party—and the flirty full moon on November 27th is the perfect time to spend a passionate night with a lover or jump into a blossoming romance with someone new.
Pisces
February 19th - March 20th

Romantic Venus spends the first week of November in your relationship sector, helping you foster more meaningful connections and commitments with partners. Cute! Just remember that love's lavender haze can easily cloud our judgment, so don't make promises you can't keep. The mid-month new moon pushes you out of your comfort zone, inspiring you to open your heart to new perspectives and take a walk on the wild side. All that excitement will leave you craving some comfort under the November 27th full moon, so spend a sexy night at home cuddling with a special someone.
Aries
March 21st - April 19th

Relationships get extra sensual after the first week of November, as romantic Venus starts sweetening up your partnerships sector with its heart-eyed vibes. Soon after, the new moon on November 13th will help to deepen your intimate connections and challenge you to be a little more vulnerable. Showing your soft side takes strength, and this courageous inner-work will pay off—by the end of the month, look forward to passionate and experimental adventures in the bedroom. Spice up your sex life and try something new!
Taurus
April 20th - May 20th

The first week of November is ideal for date nights and passionate flings alike, so get your kicks and have some fun, Taurus! But even with all this flirty energy, commitment is on your mind, so stay open to seeing a spark as something more. By the time the mid-month new moon rolls around, sudden moves or unexpected desires could rock your relationships—but try to think of these curveballs as exciting new beginnings. Emotional entanglements and sultry secrets may bubble to the surface during the latter half of the month, so being real is your best bet.
Gemini
May 21st - June 20th

Starting the second week of November, amorous Venus starts lighting up your dating sector with its fun and flirty vibes, making thrilling meet-cutes and romantic rendezvous flow into your life with ease. But relationship energy is picking up steam as the month goes on, too—so if you're not careful, casual flings could start feeling like a more serious thing! To commit or not to commit, Gemini? The full moon in your sign on November 27th may bring your answer, as it propels you into action and challenges you to prioritize your feelings.
Cancer
June 21st -July 22nd

You're feeling equal parts romantic and creative throughout the first few weeks of the month, Cancer, so make a sexy playlist or take the lead on planning a fun date night with your lover. The new moon on November 13th has the potential to erupt in either a blast of inspiration or an explosion of drama, so try to keep your chill! Thankfully, the full moon two weeks later wraps up the month on a more lowkey note. Cuddle up in bed for a solo moon ritual—perhaps one involving your favorite toys. ;)
Leo
July 23rd - August 22nd

As November gets going, your inner flirt is coming out to play, and you can sweet-talk your way into getting whatever you want. Use your amorous charms to start some steamy conversations with a special someone. Romance continues ramping up as the month goes on, so make time in your pre-holiday schedule for date nights, Leo. Fun Friendsgiving weekend outings are in order, as the free-spirited full moon on November 27th lights up your social life. Invite your crush to join the festivities, too!
Virgo
August 23rd - September 22nd

Flirty Venus spends the first week of November in your sign, upping your desire for romance and enhancing your natural charms. Just beware of falling under the spell of a too-good-to-be-true player who's trying to sell you their sexy snake oil—you know the difference between lust and love! You might be surprised at the deep feelings you're ready to share under the mid-month new moon, so don't shy away from your truth. The following weeks are perfect for embracing cozy fall vibes and having some lowkey Netflix-and-chill nights with a lover.
Libra
September 23rd - October 22nd

Romance may have felt a little slow-going for you lately, but tides are turning once amorous Venus hits your sign on November 8th. It's time to glam up, glow up, and manifest your dreamiest desires! Get out of your head and embrace your sensual side under the steamy mid-month new moon, because pleasure is on the menu. Two weeks later, an exciting and adventure-filled full moon inspires you to step out of your comfort zone and add extra spice to your sex life. What better way to wrap up the month and kick off the holidays?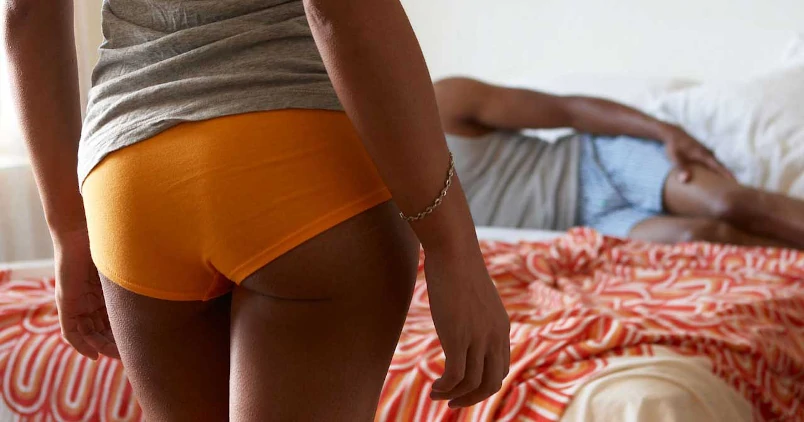 Subscribe to Frisky Fridays
Heat up your weekends with our best sex tips and so much more.