What to binge watch to get through January
It'll be over someday
What better way is there to cope with intolerable reality than to watch hours and hours of TV until you find that your reality has changed simply because time has passed? None that we've found. And since January is one of life's most intolerable yearly realities, we think it's the perfect time to cancel all your plans and finally make that imprint in the couch in the exact shape of your butt that you've been promising to make.
These will make you feel warm and fuzzy
The Great British Bake Off: Much has already been said about the happiness-inducing phenomenon that is The Great British Bake Off. So we'll just say that GBBO is the MDMA of television. It's three candles, a sherpa blanket, hot chocolate, and a sleeping puppy on your lap. It's the person you voted for winning the election. It's taking off your tights and bra and crawling into bed after an all-day interview. If you finish all seven seasons that are available on Netflix, there are actually three more that you can dig up on the internet (possibly not legally). And once you're done with those, there's The Great Australian Bake Off, and The Great Kiwi Bake Off (and many, many more, but those are the best and the ones that have the same vibes as the original).
Call the Midwife: Call the Midwife is definitely in the feel-good category, but you'll also somehow cry during every episode. You may just learn a thing or two about childbirth AS WELL AS LOVE, but it's not overly graphic (the worst you'll see is six-month-old babies with a few smears of blood on their round-ass heads), so don't worry if you can't stomach the hard-core stuff. There have been eight seasons so far, and they're all on Netflix.
Jane the Virgin: Done in the style of a telenovela, JTV is definitely not a parody but it's also not totally serious about being soapy. It's filled to bursting with dramatic twists and turns, but the beating heart of it is Jane, played by Gina Rodriguez, and her super tight family. It's fun and sweet, but not sappy, and through it all it's smart, well-written, and highly addictive. Which is fine because there are five seasons, each with around twenty episodes. Available on Netflix.
These will make you laugh
Schitt's Creek: The only reason not to watch Schitt's Creek is if you have the kind of narcolepsy where laughing makes you collapse. With a cast that includes Catherine O'Hara and Eugene Levy, it can get you out of any bad mood, including a January-induced one.
30 Rock: Tina Fey's greatest role yet, Liz Lemon taught us that the best things in life come wrapped in ham or coated in Dorito dust. We will give you your money back if this doesn't make you giggle until your butt falls off.
Bob's Burgers: The only animated show on this list, Bob's Burgers is super funny and original, but it's also a touching depiction of how nice family can be. As if that's not enough, it's also a revolutionarily sex-positive show, with teenaged Tina earnestly writing "erotic friend fiction" and drooling over butts while little brother Gene does a good amount of casual gender bending. All nine and a half seasons are on Hulu and all nine and a half seasons will make you happy.
These will distract you with suspense
How to Get Away with Murder: Viola Davis shines as Annalise Keating, a brilliant if haunted law professor and defense attorney, in this legal thriller. Each season follows a predictable arc, but that doesn't diminish how addictive it is. Also, every season has fifteen episodes that are each an hour long, and the show is currently in its sixth season, (which is set to be its last), so this one could keep you busy for the rest of January. The first five seasons are on Netflix.
Killing Eve: Sandra Oh plays an MI6 agent and Jodie Comer plays a psychopathic but strangely loveable assassin in this sexy, suspenseful, and often funny thriller. It's the role of a lifetime for Sandra Oh and she doesn't disappoint. Both seasons are on Hulu.
You: Penn Badgley, your boyfriend from 2008, is back and hotter than ever as a psychopathic stalker and killer in You. The second season was just released on Netflix and, while it isn't as electric as the first, we honestly don't care.
These will distract you with drama
Succession: It's more accurate to say that Succession will distract you with the most awkward and intense family dynamics ever. It's dark, but it's funny. And highly addictive. Lucky for you, there are now two seasons. Unlucky for you, it's on HBO. But then again, lucky for you, you'll want to watch the entire thing during your one-week free trial.
Big Little Lies: Based on the book by Liane Moriarty (which was also great, btw), this HBO original boasts an all-star cast that includes Nicole Kidman, Reese Witherspoon, and your boyfriend from 2009, Alexander Skarsgård. There's intrigue, there's drama, there's a murder investigation, there are slightly ridiculous rich people, and there are a bunch of adorable, precocious kids. There was only supposed to be one season, but they made a second because the first was so dang good.
Riverdale: Look, it's not the best thing ever produced, but it gets the job done. And there's a lot of it—seasons two and three (and eventually season four, which is still in flight) have 22 episodes each. Catch it on Netflix.
Enjoy, bbs.
XOXO,
Bedsider
P.S. You can also have sex to pass the time. Here's how to do it when your toes are like popsicles.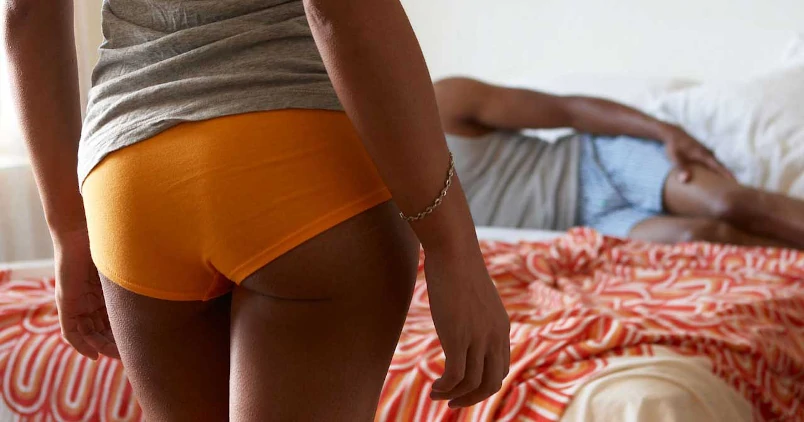 Subscribe to Frisky Fridays
Heat up your weekends with our best sex tips and so much more.