February 2020 horoscopes: Your love forecast
February is confusing. It's the dead of winter, which can be super depressing, but it's also THE month for love and hot, steamy nights. Read on to find out how to balance your life this month so that love comes out on top.
Aquarius
January 20th - February 18th

Your love life is a reflection of an interesting combination of energies right now. On the one hand, you're feeling fiery and fun when you're not in your head. On the other hand, you're also feeling a need to go inward and get super intentional about your life, and you aren't sure how to take your lover into that place with you. Your emotional patterns may already be a little up and down, so your partner may just write this off as your typical hot and cold. But make sure you at least attempt to communicate your needs clearly and listen to theirs, especially around Valentine's Day.
Pisces
February 19th - March 20th

If you're in a relationship, you may notice things feeling more stable than normal in your love life this month. If you're single, you may find yourself exploring the dating pool with the goal of finding someone more mature who's got their sh*t together. Either way, you're probably going to be feeling more grounded than usual until about mid-month, which is when the stability in your love life may be tested by the universe. Although Valentine's Day may not be all you hoped it would be, there is likely to be a chance for a do-over a little later in the month.
Aries
March 21st - April 19th

This month, you'll be craving love with all of your being. But will the universe throw a wrench into your passionate plans? Not that it's hopeless, it just may feel like you have to put in extra work to get things moving with your love interest. You may have to slow your roll a bit and moderate your pace. If there really is sizzle between you and your boo, the slowdown will just build up more heat towards that intense connection you're craving, and when it happens, it will be that much more satisfying.
Taurus
April 20th - May 20th

Your love life will feel earthy, sensual, and sultry this month as you snuggle up for some winter coziness with someone special. But is there a slightly unsettled feeling in your gut about the future? It could be that change is in the air (like having some experiences in your love life that edge you outside your comfort zone), and you're picking up on that. Change is scary, but it's a good time in your life to embrace it. Try something experimental and fun on Valentine's Day and watch things ignite with your love interest in a brand new way.
Gemini
May 21st - June 20th

Though there's plenty of flirtatious fire in your love life right now, things may also be going into deeper territory than you anticipated. There's something about the quality of the connection between you and your love interest that seems to be going way below the surface, and that could excite or repel you, depending on what you find when you each open up a bit. Going deep emotionally can definitely make for amazing sex, but it can also raise the stakes when it comes to trust and security. Remember to be as honest as you can, and keep in mind that your choices will affect your love life more than you know at this time.
Cancer
June 21st - July 22nd

If you're dating somebody right now, this may be a month where you really need them to prove that they're in it for the long haul. You're not suffering ANY fools gladly at this time, and you know what you're looking for in a partner: maturity and commitment. If you're actively looking for someone, you may be prone to seek somebody older at this time. Either way, your love life is taking on a serious quality, and you're not out for frivolous fun. Your idea of a nice Valentine's Day may be more like a cozy night at home than a night out on the town, and that's perfect. See if you can find someone who shares the same vision.
Leo
July 23rd - August 22nd

Though you're hard-core committed to your love life, you have a lot to balance, and job demands may be your focus at this time. Don't be surprised if your partner or love interest isn't on board with how much time you're spending at the office. They may be feeling a little neglected or under-appreciated. This may cause you to overcompensate by overpromising and then burning the candle at both ends trying to deliver. Even though you are truly a boss at everything you do, you can't give everybody everything all the time. (But maybe at least try not to work late on Valentine's Day if possible.)
Virgo
August 23rd - September 22nd

In the first half of this month, plan to enjoy long evenings of luscious pleasure with your partner. Valentine's Day may be a perfect time to explore new ways of making each other tingle. But later in the month, the tides may turn, resulting in some new difficulties in your love life that call for extra communication. Even though it makes you twitch, you may need to release some of your expectations around perfection and just let things be good enough as they are. If you can roll with life's ups and downs, this month doesn't have to sink you.
Libra
September 23rd - October 22nd

Your love life may be testing both your perseverance and your focus right now. Though things may not be the easiest, at least you are naturally blessed with diplomacy, charm, and the ability to create harmony, and you are able to smooth things over between you and your lover even during the roughest of times. This is a great month to use those abilities to work towards your bottom-line relationship goals. It's also a good month to ask for what you need, rather than hoping that your partner will read your mind. (Especially if you have Valentine's Day dreams).
Scorpio
October 23rd - November 21st

You're going through a lot of changes right now, including in your love life. This month, you may face a test of commitment. If you are currently in a relationship, you may be asked to show that you're all in and that you're not going anywhere. If you are out seeking partners, it may be a test of committing to your own standards. Either way, your eyes-on-the-prize mentality will be rewarded if you continue to focus on what you're manifesting. Valentine's Day could be an opportunity to more deeply commit to a relationship or to ask out someone with real potential.
Sagittarius
November 22nd - December 21st

Somebody new may be showing up on your radar this month, and things with them are likely to ignite quickly. But can you balance your love life with your work hustle? You may be feeling super energized through the first half of this month, but most of that energy is probably going towards a big vision you've been working toward for a while. You may find it hard to come clean about how much time you can realistically promise to a love interest right now, since you won't want to disappoint them, but it's important to make sure you're on the same page. Speaking of which, make sure you don't set up any Valentine's Day expectations you can't deliver on.
Capricorn
December 22nd - January 19th

Sparks will be flying this month as you find yourself in the midst of some fiery feelings. But what about the logistics of it all? You and your love interest are both leaning into your workaholic tendencies right now, and there are a lot of demands on both of you. You're both going to struggle to make space in your lives for spending quality time together. But working a little harder to make time for each other is important, and it'll be so worth it when you get between the sheets. The sex will be electric, experimental, and FUN.
XOXO,
Bedsider
P.S. Catch up on the latest sexual health news with our January roundup of the top stories that could affect you.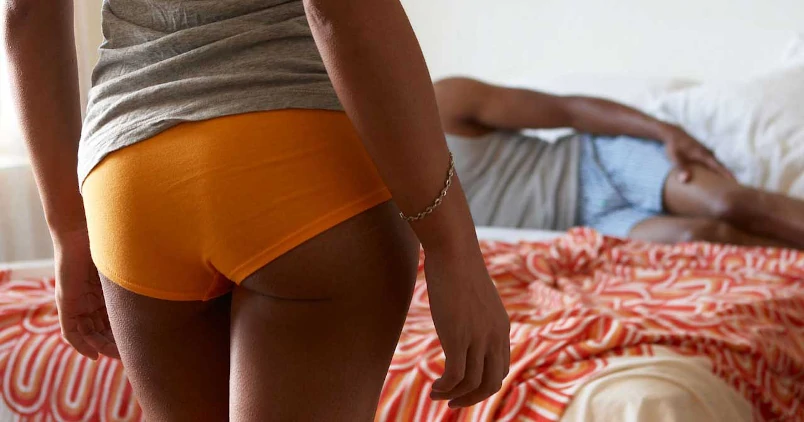 Subscribe to Frisky Fridays
Heat up your weekends with our best sex tips and so much more.