Your 2021 horoscopes: This year will be better
Well, friends, we made it. It will never be 2020 again, and we've gotta say, we're not sorry to see it go! While we are entering 2021 carrying the weight of all that's come before, expect this year to be much lighter overall. Read on to find out what's in store for your sign in 2021.
Capricorn
December 22nd - January 19th

What to expect in 2021: Let's be real—you've been THROUGH it. And you're ready for things to lighten up. This year will deliver by taking some of the pressure off and helping you move forward with things you've been wanting to get off the ground for a long time. Expect to make great progress this year. You've definitely earned it. If you're in a relationship, you may even take things to the next level with your partner in 2021.
Key dates: Mid-January will hold an important moment for your love life! Time to have a serious discussion about a major next step that you and your love interest are considering. In mid-November, things may shift for you financially. The things that you've been investing in all year will finally come to fruition. Time to collect.
January forecast: Prepare to kick 2021 off with a major shift in your love life! Be it a deeper commitment to a love interest, or meeting the person of your dreams, by the end of the month you'll find yourself living in a brand new reality. In true Capricorn fashion, no matter how much changes, you'll still be keeping an eye on the work that needs to be done and taking responsibility for it. And that's because you're just always on top of it, aren't you?
Aquarius
January 20th - February 18th

What to expect in 2021: This year will be a bit of a mixed bag for you, Aquarius. On the one hand, those BIG things you've been hoping for (like the perfectly unconventional love of your life) could very well show up this year. On the other hand, the universe will also require you to manage your reality in an almost painfully practical way. If you can strike a balance between flights of fancy and self-control, this year holds great potential for all of your heart's desires coming to fruition. You really can have your cake and eat it too.
Key dates: Mid-February will be a high point for you when it comes to your love life. Though this time may come with its own share of ups and downs, you will be feeling some of the strongest love vibes of the year. The end of October will be a high-powered time of focus for whatever you've been trying to manifest (especially in the career department!). You will be able to apply a special combo of discipline and strategy to get the results you're looking for. Use it wisely!
January forecast: You're already taking 2021 by the balls. The theme of this month for you is "not wasting time on anything," and that includes any nonsense going on in your love life. You are willing to take anything that doesn't serve your heart's ultimate desires to the chopping block. Though it may seem harsh to some, you know you are on the right track. You have a good feeling about where you're going and what you're making room for in your life.
Pisces
February 19th - March 20th

What to expect in 2021: If you are sensing good things to come, you're not wrong! This year will show you what's possible by sending you opportunities that will set the stage for a super-expansion in the next phase of your life. We're talking love, money, career—the whole shebang. What's important right now is that you set a good foundation and make the most of the opportunities and resources that come your way. If you can avoid letting emotional extremes get the best of you, this year should yield steady progress in the right direction.
Key dates: Early June will be a period of great luck for you! And your sex life should be heating up around that time too. This is just a sneak peek of things to come. The end of November will be a manifestation explosion for you. Say hello to copious amounts of earth-shattering sex, career level-ups, and big positive changes in your most important relationships.
January forecast: There may be some new cross-pollination happening between your social circles this month. And as some of your friends are getting together, you may also be looking at a potential dive into deeper intimacy with a friend who's been wanting more with you for a long time. There's a lot of emotional complexity around this relationship, so be careful to consider all that may be at stake in a switch-up-to-romance situation.
Aries
March 21st - April 19th

What to expect in 2021: You will feel the universe letting up on you this year, and you are SO ready for it. Time to thrive! And maybe all that pressure has been transforming you into a diamond. You've learned so much about your capabilities, true desires, and who you really are. And now you're ready to apply all those lessons to your love life, career, finances, and beyond!
Key dates: In mid-April, you will really hit your stride. And as a bonus, you'll either meet someone promising or things will enter an especially sweet phase with your partner. At the end of November, get ready to say hello to super hot sex. November will have you feeling physical AF, and despite the chilly temps outside, things will be sweltering between the sheets.
January forecast: January may have you worried that 2021 is going to be just as exhausting as 2020, but never fear. The universe is just making sure that you've got your affairs in order. And luckily, you've learned to hustle so hard over the past couple of years that you've got this. If you're in a partnership, you may find that you and your love are able to come together and help each other find extra resources for success this month, too.
Taurus
April 20th - May 20th

What to expect in 2021: You've been going through lots of upheaval, and while embracing change is new for you, in this case, it'll result in some great things for you, from your finances to your love life. This year could also prove to be a unique time of trial and error, during which you'll learn what does and doesn't work for you. Though that idea may make you nervous, know that you are well on your way to success in all areas of life.
Key dates: At the end of May, you'll experience an important turn of luck. A powerful truth will emerge in your love life when a strong connection pulls you towards someone important. In early August, watch out for a solid sense of the right timing that will help you focus on exactly what needs to be done.
January forecast: This month will bring an important change that will set the tone for the rest of the year. Luckily you will be able to focus that legendary Taurus resilience and tenacity on the challenge at hand and progress steadily towards success. If this change has to do with your career, your capability and good attitude will get you noticed, and you may earn yourself some extra responsibility as a result. If it has to do with your love life, you may impress your love interest with your display of maturity around a difficult issue.
Gemini
May 21st - June 20th

What to expect in 2021: This year, you will make great strides in everything from your love life to your career to your hobbies. You will feel an increased ability to be responsible and serious where it counts, and you'll also be able to make the most of the great luck and opportunities that will show up. Expect everything to get leveled up as a result! You may even find yourself dating a whole new type, or getting involved with somebody who you can actually see a long-term future with (kind of rare for your typically short-term, flirtatious mentality!).
Key dates: Though mid-February may be kind of confusing overall, it's also going to be one of the high points of the year for your manifestation potential. The potential for love connections will be especially high at this time, so make the most of it. Mid-April will be a super electric time for your sex life! Your no-holds-barred energy should land you some exquisite experiences between the sheets.
January forecast: If the month starts off feeling a bit dull (which you're generally allergic to), don't worry. From mid-month onward, there will definitely be some excitement brewing. Especially physically. Your sex life will take on a whole new sizzle in the form of experimentation, exploration, or the rekindling of something that's been ignored for too long.
Cancer
June 21st - July 22nd

What to expect in 2021: You'll finally feel a lightening of energies this year, and just in time, too! Any more emotional intensity and you were seriously going to lose it. It's a great year to gain some traction on new projects. You will be feeling energized and focused, and you'll even find yourself dating people that seem to have their acts together. 2021 will open a whole new chapter in your life and will give you the opportunity to embrace a new partner who will really check your boxes.
Key dates: Expect some super exciting news in early June. Whether it's a new relationship going official, a bit of financial success, or a career high, it will represent success in something you've been working towards for a long time. Early November will be an all-year physical high for you. If you've been waiting for some serious sexy time, November will be the time to pursue it.
January forecast: Though January's demands may be exhausting or just plain eye roll inducing, it's a good time to be as responsible as possible. This isn't the best moment to be escapist. If you stick to a plan and get your to-do list done, you won't be surprised when some sudden shifts show up mid-month and throw a curve ball at you. Don't you love it when past you sets things up well for future you?
Leo
July 23rd - August 22nd

What to expect in 2021: This year will bring both extremely powerful opportunities and big challenges to go with those opportunities. You won't be able to sit by and let things happen to you. Get ready to fully grow up and show up. The good news is that if you put in the work, it'll be so worth it. Including in your relationship. Don't worry and don't get discouraged. You've got this.
Key dates: You'll be feeling the fire in early April, Leo! Put it towards anything you want (including an amazing sex life). In early October, an important relationship will help you see some possibilities in your life that you didn't see before. Get ready for a plot twist that will set you free in areas you've long been stuck.
January forecast: This month will reveal a challenge that you'll be working on throughout the year, and it's likely to emerge in your closest relationship. Though you may be frustrated by your initial approach not working, you can achieve major growth by being open to new ways of thinking, which can only improve your relationships. Don't worry if the praise you so need and desire doesn't come immediately—you will more than earn it through your commitment to success.
Virgo
August 23rd - September 22nd

What to expect in 2021: You may have spent a lot of time being uber-practical and getting your house in order, but now you're all about gaining new inspiration. Nothing gets you off like being of service, and you may be getting all juiced up about getting your partner on board with you on some new service-based ventures. This is a year of giving back for you, and everything will likely center around that. We all could stand to be more like you!
Key dates: January will be key for you in setting the year up right. Finances in order? Check. Love life in order? Double check. Managing shit like a boss when anything out of left field comes at you? Triple check. Definitely starting the year off right. In early May expect to feel major contentment with your life, from your home to your work. Plus, your lover will be very focused that month on making you feel exquisite.
January forecast: January will feel full but solid. As always, you'll have your shit in order. And your love life should feel like it's on track. Even if you're not partnered up in the moment, you are likely to feel some new confidence about who you're looking for and where to find them. And that energy may be all you need to manifest a perfect meeting moment this month.
Libra
September 23rd - October 22nd

What to expect in 2021: If you're a little concerned about how much casting off you've done lately, don't worry Libra. This year will be all about carefully managed growth in your life. If it's a new relationship, it will flourish with steady and solid pacing. If it's a new job, you will rise to the top of your game with consistent work. If it's a new you, you will keep up your new habits with discipline and focus. Nothing can hold you back this year. You've got your formula for success down!
Key dates: Mid-February may not be the most clear-headed time of the year for you, but holy wow does your love life have the potential to really take off then. Your passion will know no bounds, and that may be just the thing to get your relationship off the ground. Towards the end of October, expect to feel super physical and energized. While others may begin hunkering down and going into hibernation for the winter, you will be starting up new habits that feel awesome for your body. And bonus: you'll also be feeling extra energized between the sheets during this time.
January forecast: At the beginning of this month, you may find yourself trying to accomplish more than you have the bandwidth for. But no matter what life throws at you, you will be able to manage things well. And that includes anything that may come up in your love life. Your logical super-powers will help you find balance despite any difficulties that may arise, which will help you establish deeper trust with your partner.
Scorpio
October 23rd - November 21st

What to expect in 2021: This year will present you with some big choices, Scorpio. And they're not all going to be easy. You are entering a time when you're going to need to take things to the chopping block, possibly including an important relationship, your job, or your overall life direction. Some things will need to go and others will need to stay. And you may be surprised by which is which. But no matter what you purge from your life, your resilience, passion, and intensity will carry you through to your highest and best purpose. And those are qualities you'll never lose.
Key dates: Early June will hold a high point of the year for you, bringing luck and opportunity. Plus your love life should be full of the kind of emotional depth you truly relish at that time. Early December will be a breakthrough time for your career. Expect a game-changing new situation to arise that will set you up for huge success in the following year. Get ready to level up big time.
January forecast: The universe will bring some sudden changes at the beginning of the year. Some of them may hit like rude awakenings, while others may actually free you from things that were holding you back. No matter what, you can leverage the change in your favor (especially in your career!). Just try not to get caught up in any petty back-and-forth with those who aren't worth your precious time.
Sagittarius
November 22nd - December 21st

What to expect in 2021: This year, you will find greater empowerment in all areas of your life. Mostly because you will not only use that huge Sagittarian imagination of yours to reach for the stars, but you'll also find practical ways of taking action to make your vision a reality. This will help you upgrade what you're manifesting in your life (including in your love life!), and get you on track to actualize your potential. It's time to have it all!
Key dates: Early April will be a super fiery time for your sexuality. An extra-energetic lover may just show up right on time to give you the ride of your life. In mid-October, an important relationship will influence you heavily and perhaps even help you towards a fated new direction in your life. This will be the time to say yes to whatever life is presenting you.
January forecast: Your finances may get the bulk of your attention this month. You are devoted to getting balanced in the new year, and you can make some steady progress with organization right off the bat. This focus will pay off later in the month, too, as January will bring some unforeseen expenses that you'll be glad you planned for.
XOXO,
Bedsider
P.S. We've put together 6 New Year's resolutions that will make 2021 your sexiest, healthiest year yet.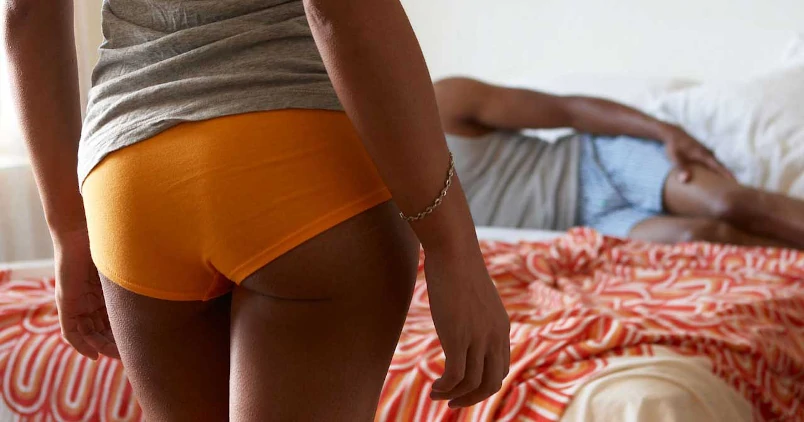 Subscribe to Frisky Fridays
Heat up your weekends with our best sex tips and so much more.