October 2021 horoscopes: Double double toil and trouble
Don't worry, it won't be that bad
If you're feeling unprepared for the new season that's now upon us, you're not alone. Luckily, the beginning of fall won't bring anything you can't handle, though you may have to bring more focus and intention to your relationships than you had to over the summer. Read on for more details.
Libra
September 23rd - October 22nd
At the beginning of the month you'll be seen in the wrong light by some important people in your life. Though you're only interested in clearing the air around any misunderstandings, you may also realize that some of the people you thought you could trust aren't as trustworthy as you believed they were. The good news is that true friends are also likely to emerge and show you that they're in your corner, especially towards the end of the month.
Scorpio
October 23rd - November 21st
You feel your feelings deeply and you tend to share them with those who matter the most, but it's important not to get manipulative towards your partner just because they don't express their love in the same way as you. Remember that different people express things differently, and you might not be able to perceive how deep someone else's feelings go just at a glance. Take it easy on the pressure this month, and watch as that choice opens up more ground for understanding.
Sagittarius
November 22nd - December 21st
Though the month starts off on an intense note in an important relationship, you will be able to work through whatever is thrown at you with your usual untouchable optimism. Things will shift mid-month when pleasure and flirtation take center stage in your love life. Sexual exploration could spice things up at the end of the month, when you and your partner find yourselves developing an even deeper sexual connection than before.
Capricorn
December 22nd - January 19th
Career matters will have you stuck in your head for much of this month. Though your practicality and tenacity will get you through anything, you can easily lose track of self-care while you're busy problem solving. Your body will find troublesome ways of getting your attention this month if you don't proactively take care of it. Remember, pleasure is not a luxury, but a necessity.
Aquarius
January 20th - February 18th
Relationships take center stage (again) this month as you focus on some important issues emerging between yourself and the people you care most about. Differences that might typically rest quietly in the background are suddenly up in your face. Fortunately, this may actually be more stimulating than frustrating for you, as you appreciate honesty and clarity in your relationships with others. Remember to show your heart, not just your intellect, especially towards the end of the month.
Pisces
February 19th - March 20th
You will need to find balance between the emotional and the rational this month as life requires not just heart, but logic. This may be a hard balance for you to strike, as you tend to be drawn towards the emotional side of things. But your head also has to show up in order for you to manage some important matters in your life and your relationships. Look for these issues to show up around shared resources, finances, and work. Things will fall into an easier rhythm by the end of the month.
Aries
March 21st - April 19th
Relationship stresses may be bringing out your impatient side this month. You tend to want to just move through things as quickly as possible by expressing your thoughts as directly and forcefully as you can. Though your bold approach is your trademark, you definitely need to incorporate a little chill factor this month, as you could cause some permanent damage if you're not careful. Around mid-month, you'll have a little luck on your side and will be able to find your way through things with a bit more ease.
Taurus
April 20th - May 20th
Your typically peace-loving nature may be thrown off this month when work relationships get tense. Others may not be doing their due diligence on an important project, and it's affecting your work load. Your love life may also be suffering due to poorly communicated expectations with your love interest or partner. It's a good month to get everything out on the table to make room for discussion and negotiation. That'll help you a lot at the end of the month, when deeper truths that need to be addressed will be revealed.
Gemini
May 21st - June 20th
The yikes factor in your relationships this month will be strong, as the miscommunications just keep coming. It's definitely easy to accidentally say the wrong thing right now, and especially so when you like to get it all out as much as you do. But really listening, especially to your partner, can help you understand some important details about the situation that you might otherwise miss. This choice will help you make it through the month with more ease.
Cancer
June 21st - July 22nd
The circumstances of your close relationships may demand that you be a little less emotional and a little more rational about things this month. For you, that may feel like being asked to taste colors. Emotions are your whole thing. Take advantage of the insightful energy coming in at the beginning and the very end of the month to help you gain better understanding about yourself and others. It will help you bridge the gap between emotions and reason.
Leo
July 23rd - August 22nd
We're not going to sugar coat it, you're going to have some problem solving to do this month as sexual issues between you and your love interest take center stage. It's not that things are bad in bed per se, it's just that tensions have been building and they need to be resolved. Things will get easier mid-month, as the intensity lessens and a focus on fun and pleasure returns. But take what you've learned about communication with you into the end of the month—you're going to need it then too.
Virgo
August 23rd - September 22nd
A snafu in your finances may have you working overtime to get things straightened out. Don't worry, it won't be catastrophic. And you will still be able to enjoy those clothes you just ordered. But you've got to be careful not to accrue any further debts this month. In partnership, there may similarly be stuff coming up around resources, especially shared resources. Finding balance financially will be the theme of the month for you.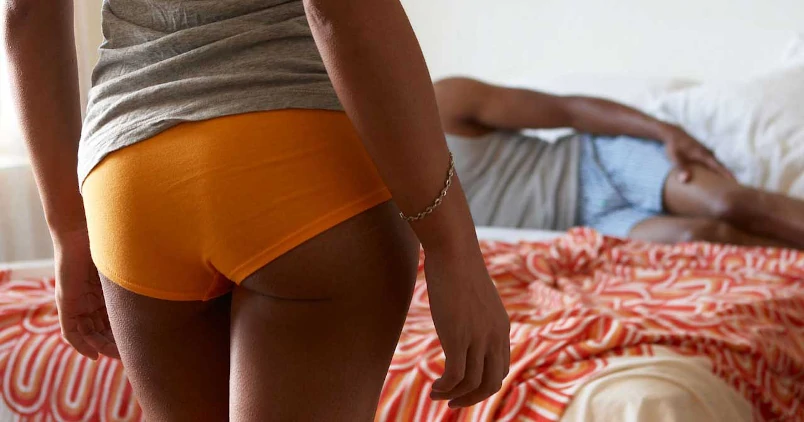 Subscribe to Frisky Fridays
Heat up your weekends with our best sex tips and so much more.