December 2021 horoscopes: What do you really want?
Cold weather brings deeper contemplation
As we transition from fall to winter, expect a period of deeper contemplation. The new season, which will bring both festivity and deep quiet, calls for you to clarify your desires and goals. And this month will challenge you to do just that. Read on to find out what to expect for your sign.
Sagittarius
November 22nd - December 21st
You'll be feeling vibrant and energized this month as you focus on finally working through a to-do list you've put off for a while. You may also be feeling extra energetic in bed. Pay attention to your finances, though. Towards the end of the month, there may be an opportunity that will require you to tap into your savings, and even your incredible luck may not be enough to make it happen if you've been spending money fast and loose all month.
Capricorn
December 22nd - January 19th
A very important storyline is falling into place in your love life right now. And it's vital to pay attention to it. If you're single, your true desires will become clear to you. If you're partnered up, you will finally begin to look at where your lover is leaving things to be desired in your relationship. And wherever there are matters that need to be dealt with, that's where all your attention will be going by the end of the month. You're about to go into a deep journey of the heart.
Aquarius
January 20th - February 18th
Your ability to focus on getting things done in the most logical way possible is super helpful to you right now, especially because life isn't making things easy. You are being forced to change your plans at every turn, which would frustrate anyone. As you move through the month, though, you may begin to notice desires of the heart that you had not been aware of previously. It's important not to dismiss them. They will set the tone for your love life in the near future.
Pisces
February 19th - March 20th
Feeling easily angered this month may be a bit of an issue, especially since you are trying to conserve all your energy for something important in your life. If you can channel that hot-headed energy towards physical pursuits (whether at the gym or between the sheets), you will be able to spare yourself the negative consequences of misdirected aggression. The end of the month will be a critical time in your love life, as some important aspects of your relationship come up for your review. Pay attention.
Aries
March 21st - April 19th
You are going to be extra energetic this month, which will be convenient because you have a lot of different pursuits at the moment. It may be hard to know your limits. But you will be forced to cash the check your mouth writes towards the end of the month, so be cautious with how big a game you talk. Some unfulfilled desires will arise in the final few days of the month, and your love life will turn a corner as a result.
Taurus
April 20th - May 20th
There is a build-up to big changes happening in your love life this month. Though you've gone through a whole year of change, there may be some desires in your heart emerging that you have not yet seen until now. This will become especially important at the end of the month, when these inner feelings get reflected in an important catalyst in your relationship. This catalyst serves to help you get more deeply aligned with your authentic love life needs in every way.
Gemini
May 21st - June 20th
Aggravation that you've been suppressing in your love life will rear its ugly head this month as you find yourself in a clash of wills with your love interest or partner. Though the issue itself may not be a huge deal, it will be very easy for things to escalate to the point where emotions overtake the situation. If you can hold back on firing off sharp words and instead set your sights on peaceful negotiation, you should be able to find your way back to a more positive place.
Cancer
June 21st - July 22nd
This month, you may find yourself face-to-face with an important relationship matter that you've tried to bury or ignore up until now. Though that may be stressful and scary, being honest about the situation can help you find a deeper truth in your relationship. You are heading into a time where you are going to have to face these truths directly, which may bring up many fears. One of them may be the fear of losing somebody important. Remember that just because you're afraid of it doesn't mean it's going to happen.
Leo
July 23rd - August 22nd
Though life is demanding, you'll get an energy boost this month that will help you move through challenges with greater ease than usual. It's also going to be a bit easier to connect with your love interest physically this month, and you may just find that you are on the same wavelength when it comes to sexual expression. The end of the month will be the beginning of an important period in which you will examine your deepest desires. Be careful—you may find that this examination brings out obsessiveness in either you or your SO.
Virgo
August 23rd - September 22nd
You may feel an odd combination of agitation and intense desire this month. You may find yourself grasping at instant gratification through mindlessly surfing a dating app or hooking up with a less-than-aligned partner. All of this is leading to a deep self-examination at the end of the month, when you'll finally begin to get clarity on what it is you're really looking for.
Libra
September 23rd - October 22nd
This month, you'll be getting lots of attention from a love interest. And they may just be coming on too strong. Finding your boundaries and discovering what you really want is likely to be the theme for you. At the end of the month, you'll be ready for a deeper examination of whether your needs are being met or not, and whether or not you should go searching for deeper fulfillment.
Scorpio
October 23rd - November 21st
Communication in your love life will be a theme for you right now, especially around usually unspoken desires. If you're in a relationship, this will be an important month that will set the stage for unearthing these desires and finding deeper, more passionate ways to express yourself as a result. A word of caution though: be careful about these emotions causing you to obsess this month, which could lead to unhealthy expressions and patterns, especially towards the very end of the month.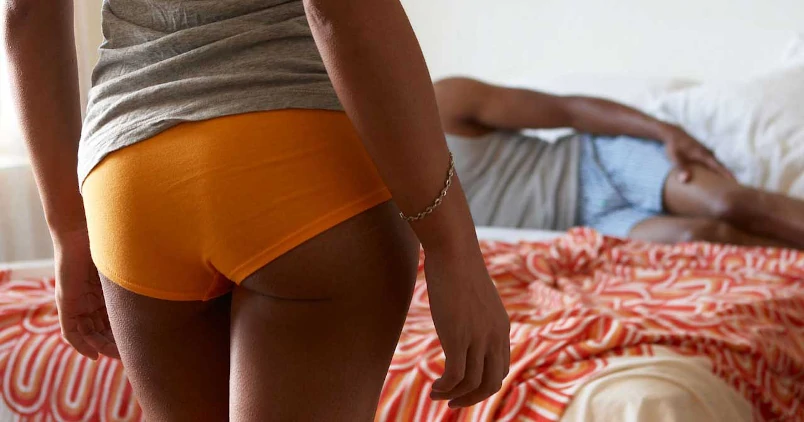 Subscribe to Frisky Fridays
Heat up your weekends with our best sex tips and so much more.