9 Halloween costume ideas to scare (or tear!) the pants off your crush
Let's get into it
It's finally October, witches, so you know what that means: Welcome to spooky season!
Ah yes, the most gory-geous time of the year is here. And Halloween is right around the corner.
Not sure exactly what it is about putting on a costume and feeling the fantasy, but it is intoxicating. It can also up your confidence, and that boost can give you the courage to shoot that proverbial shot with a special someone.
Whether you're trying to cuff it (just like Beyoncé taught us) with a new cutie or you're ready to make moves on that long-time crush, there's no time like Halloween to dress to impress. We're here to help!
Here are some fun, sexy, and perfectly 2022 costume ideas that will have your crush treating all your tricks in no time.
1. The warring cast of Don't Worry Darling
The delectable off-screen drama surrounding the cast and crew of Olivia Wilde's Don't Worry Darling is rife with costume opportunities.
Go comfy-chic and channel your inner Florence Pugh in a purple set. Just don't forget the ever-full Aperol spritz and no-f*cks attitude. Go petty spaghetti and don a "Miss Flo" tee with some of your besties, just like Pugh's glam team. Go a little kinky, throw on a Harry Styles-approved suit and find your own Chris Pine to (consensually) spit on.
Does it get more 2022 than this? No, it doesn't, darlings.
2. Literally anyone from Euphoria
At Euphoria High, there is someone for everyone. You just need to pick your poison.
There's Rue and Jules if you want to give that main character energy. But that's just the beginning: you can put on some heavy eyeliner and channel your inner feistiness as Maddy; don your best wavy blond wig and teardrops as Cassie; shave your head and transform into the charming Fez. It's all up to you!
Yet, while any of these should get you some attention, we cannot endorse you writing a play about all your friends and sharing it with the world. That's too scary, even for Halloween.
3. A snack dressed as…an actual snack
Okay, hear us out here: Think about your crush's fave foods (in a totally not creepy way, of course). Then, give them a version so good that they'll want to eat you up on the spot.
He's into chicken wings? Well, skip the feathers and go bold as buffalo sauce. She's into dessert? Be an ice cream sun-bae so decadent she needs to try all your flavors.
The world is your oyster here, so shuck away. Oysters are an aphrodisiac, after all.
4. Anything from the multiverse of Everything Everywhere All at Once
Speaking of snacks, how do you feel about hot dogs as fingers? Giant, world-altering everything bagels? Delicious, yes, but also extremely on brand this year, given Everything Everywhere All at Once.
The movie, which exists in a twisted series of universes, has dozens and dozens of costume ideas that are perfect for Halloween. They can vary from goofy to sci-fi to glamorous—all with plenty of iconic details you can add to make yourself instantly recognizable.
Just try to stay away from dogs. Don't want to lose a processed meat digit.
5. A character from a Jordan Peele classic
Is it even really Halloween if you don't reference a new Jordan Peele hit? Nope, it's not…er, well, this year, Nope, it is. (We don't want to give any spoilers here, so skip over this section now if you don't want to know. 3…2…1. Okay, you were warned.)
Transform yourself into Jean Jacket with just a few white sheets cleverly overlaid with some wiring, body tape, and a prayer. You can even make it sexy with white lingerie and become a flirty alien superstar (+1 for another Bey reference) so hot your crush won't be able to resist a good probing.
6. The final girl of their dreams
No matter your gender, we've all yearned to be the final girl. You know, the last one standing—often breathless and bloodied—at the end of the horror movie.
There's something oddly sexy about survival, isn't there? Grab your crush's eye by leaning into Neve Campbell, Sigourney Weaver, Jamie Lee Curtis, Lupita Nyong'o, or any other scream queen you feel connected to.
They're legends for a reason, and they can open the door to fun and maybe even some role playing.
7. A mouse
8. A seriously disturbed queen or princess
With House of the Dragon in full swing, why not channel your inner Westerosi as one of its two leading ladies this year?
You can go full queen and become Alicent: a strong-willed, auburn-locked royal with a drop of delicious villainy. Or you can be the shining princess and heir to the Iron Throne, Rhaenyra. This one is perfect for anyone who loves dragons, craves power, or just wants an excuse to dye their hair that iconic Targaryen blonde. All the bleach; none of the emotional crisis.
9. Something punny
Not necessarily a costume kind of person? We get it, elaborate costumes aren't for everyone.
When in doubt, pun it out and turn your crush on with a brainy or clever take on a costume. Think the classic approach to the quarterback (aka putting a quarter on your back) but with a bit more creativity. If you can think of it, you can make it, and you can save a little money on the way.
There you have it, ghoulies! May this Halloween bring you all the treats and all the tricks your heart desires.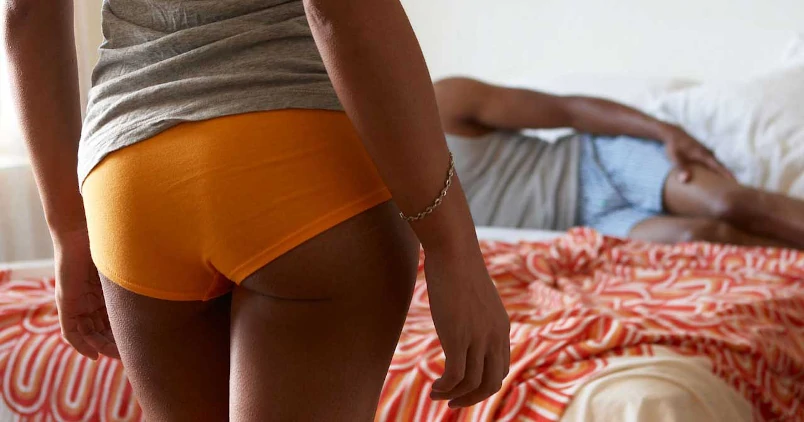 Subscribe to Frisky Fridays
Heat up your weekends with our best sex tips and so much more.