How to avoid 6 common condom problems
Condom trouble? First, don't give up. Second, make sure you're using the right condoms the right way.
We've all been there. Things are heating up and you both know exactly what you want to happen next. One of you whispers those five crucial words: "Do you have a condom?" and the other produces one (or, better still, several) triumphantly. You're happily getting it on when you realize the condom tore or slipped off…
Condoms are easy, cheap, and offer protection against STIs and accidental pregnancy. Here's the thing—they only work if you use them the right way. To help you do that, we've teamed up with Melissa White, CEO and founder of Lucky Bloke, to tell you how to avoid the six most common condom problems.
1. Help—the condom broke!
The good news is there are many ways to reduce the chance of a condom breaking. If you find yourself dealing with a broken condom situation, here's what to do.
What now? If you realize right away (before anyone has gotten close to climaxing) that the condom broke, you can throw out the broken condom and try another one. Before you start again though you should make sure there isn't something wrong with your condoms. Are the packages intact? Are your condoms expired? Were they exposed to extreme heat or cold? If not, you can use a new condom and just watch out for breakage.
If there's a possibility of preejaculate or ejaculate, the safest thing to do is take emergency contraception (EC). You can take EC up to five days after you have unprotected sex but most kinds work better the sooner you take them. Here's how to get some. You may also want to get tested for sexually transmitted infections (STIs) if you're not sure of your partner's status. (And remember, you definitely can't tell if someone has an STI just by looking!)
So it doesn't happen again: Condoms can work very well when you use them right. If you've had a condom break, here are a few things to check to make sure it doesn't happen again.
Size. When someone repeatedly has experiences with condoms breaking, it may mean the condom is too small. This doesn't always mean a guy requires a large condom, though. A different kind of standard (or medium) size may work.

Lube. Using lube can make using a condom a lot more pleasurable. Pro-tip—apply a small amount of lube to the penis before applying the condom. (If you are using the proper size condom, this should not cause the condom to slip.) Use a generous application of lube to the outside.

Packaging. It's important to make sure you're opening the condom package carefully. We know you may be tempted to rip it open or use your teeth to get things going asap, but opening the package the wrong way can tear the condom.

Putting it on. To make sure you put the condom on correctly, be sure to pinch the tip while rolling it on. It's important to leave room for the finale!
2. Uh oh…looks like the condom leaked.
If you notice semen anywhere outside the condom during sex or after, it's time to take extra steps to make sure you don't get pregnant.
What now? Again, taking EC as soon as possible is the best way to reduce your risk of accidental pregnancy. Getting tested for STIs is a good idea if you don't know your partner's status.
So it doesn't happen again: If a condom is leaking from the base it's probably too big. This happens more often than one might think, as 35% of men require a smaller than standard condoms. Smaller condoms are rarely available at your local store but you can get them through websites like Lucky Bloke, Condomania, and Condom Jungle. By simply switching to a condom that fits properly you will avoid this situation in the future. If you're using a standard condom, try small. If you're using a large condom, try standard.
If the condom is leaking from the top or the middle, it could have a tear—see the section above on broken condoms.
3. The condom fell off…and got stuck!
This one can be scary, especially if you have trouble finding and retrieving the condom. Don't panic.
What now? If the condom falls off, once again it's time to take EC and go for STI testing. If it gets stuck inside you or your partner, here's Cosmo's advice: "lie back, relax, and insert one or two fingers inside of you and try to pull it out". Don't panic if you have trouble getting the condom out—hopefully it will come out on its own after a bit. If it doesn't, head to your health care provider to remove it.
So it doesn't happen again: This is another situation where the condom is probably too big—try a smaller size.
4. The condom doesn't feel good and he can't get hard.
If a condom is too tight or uncomfortable, he can lose his erection. It's not you, it's the condom, so don't feel embarrassed—you can still save the night!
What now? There's always the classic midnight condom run to get a different kind of condom, but if that's not an option, opt for a cuddle and a movie and next time you hang out, come prepared.
So it doesn't happen again: Again, it's all about the fit. Even if a condom is not too tight, sometimes the fit is just uncomfortable. A good way to avoid this is to try out different kinds of condoms. (We like the sound of that!) Lucky Bloke has a "Not Sure What Size to Buy" condom sampler if you think size could be the issue. They also offer lots of other samplers if you just want to explore your options. You can also get variety packs through a bunch of other online retailers like Amazon, Condom Jungle, Sustain, and Condomania.
5. I think we're allergic to condoms…
If you're getting down and dirty and one of you starts getting itchy and irritated, it may be an allergic reaction to the condom you're using.
What now? Give it a rest for the time-being and ditch the condom you're using—no one wants to feel irritated! Go see your health care provider to find out what's going on down there.
So it doesn't happen again: If you're allergic to latex, there are some great alternatives out there that protect from STIs and pregnancy and offer amazing sensitivity, heightened feeling, and heat transfer. Note that lambskin condoms, while in the non-latex category, are not ideal for everyone since they protect against pregnancy but not against STIs like HIV. Other non-latex condoms provide dual protection from pregnancy and STIs.
6. But won't this cling wrap do the same thing?
Everybody knows someone who knows someone who used a plastic bag that one time. This is not a good idea. It seems like a no-brainer, but if you are turned on and can't find a condom anywhere, cling wrap starts to sound more appealing. If you find yourself facing a spontaneous decision about whether to use anything for a condom other than a real condom, here's what to do.
What now: Stop right there. Any material other than an actual condom will not work to prevent pregnancy and protect you from STIs. Go on a spontaneous condom run—you'd be surprised where you can find condoms!
So it doesn't happen again: Your best bet for preventing this problem in the future is to carry condoms with you. They're easy to tuck away into pockets and purses and it's sexy to be prepared. Just make sure you don't keep them too long in a pocket or purse or expose them to extreme temperatures.
What we've learned…
Most of these mishaps could be avoided by using the proper size condom. If your partner needs a snugger-fit condom, you might feel uncomfortable about approaching the subject. "I'd always suggest focusing on the pleasure aspect—you both will benefit." says Melissa. "If you are using a condom that fits, your focus will be on each other and not on the condom."
If you are having condom woes, a better fit condom—or a higher-quality condom—is going to be the solution in most cases. And if you're looking to explore your condom options, Lucky Bloke is offering a 25% discount for all their products with the coupon code BEDSIDER.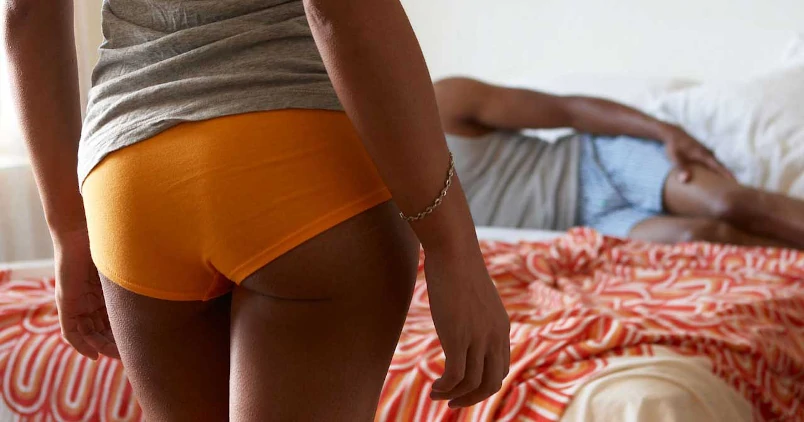 Subscribe to Frisky Fridays
Heat up your weekends with our best sex tips and so much more.