July horoscopes: Enjoy your independence
It's a power month. Some of us will shine at work or stand out socially. Others will have fun taking lead in the bedroom. Either way, July is going to be an adventure.
Cancer
You're not taking any shit from anyone. Or at least that's how it feels. This month, it's all about standing up for yourself. While you get comfortable being ruthless, try to be aware of the consequences of your actions. A little mindfulness will help you avoid things like a Viking-style table-flip at your next work conference. BTW, your bold, take-no-prisoner attitude could lead to some raw, animalistic passion in bed. Just sayin'.
Leo
There's work to be done. In relationships and on the job. If you're with someone, you both have to pitch in and seriously work on things if you want to last. And if a job or class isn't going your way, you can still win by putting in extra effort. We see some really great changes coming your way towards the end of the month. Growth and maturity are leading to healthy, empowering choices and it shows in your badass, beautiful glow.
Virgo
This balancing act that you're trying to maintain is tricky. Especially when friends and relationships are more demanding than usual. If you need to set boundaries and decide where to put your energy, we hope you'll listen to your gut. Even if your instincts have been off this year, now you will have a good sense of where to direct your life. Things lighten up by the end of the month. Expect more flirting and less intensity/confusion.
Libra
Get ready to have your willpower tested, from how you handle it to whether or not it's worth it. This is not the easiest thing to endure and it might piss you off quite a bit, but think of it as an opportunity to practice staying calm, flexible, trusting, and open to change. If you can work on those things, you are going to get a lot of good stuff out of July. Be kind and patient toward yourself though. You're going to need it.
Scorpio
Ugh. Drama. At least you can read people with uncanny accuracy and then say the right thing at the right time to them. That should minimize some of the shenanigans. And it appears that gentle sex is not your thing at the moment. Know that it's okay to explore your wild, powerful urges. This side of you will even captivate a certain someone. Some of this power will serve you well at work too. You're mentally sharp and you know what needs to be done.
Sagittarius
Look at you, shining a spotlight on the truth and telling it like it is wherever you go. We love that honesty is your super-power, but how you deliver the message is important, too. Actually, in July, it might be better for you to listen instead of shooting your arrow of truth into the heart of the matter. Friends and lovers want you to hear them, so try to just do that. Play with the flirty, fun, flamboyant energy you feel this month. August will have a very different flavor.
Capricorn
You've been extremely patient, but now you're done. You feel tested, pushed around, and you're sick of navigating heated emotions. Underneath it all, you might feel like your personal power is being threatened or like you're getting weak. No way! This turbulence is going to blow over. By the 20th, things will feel gentler. There may even be a new love opp and their competence, understated charm, and coolness will make you adorably mushy.
Aquarius
Are there enough lattes to keep you going? You seem to be working really, really hard right now and you're not going to let anything stop you. Not even exhaustion. The overkill feels like it's feeding a need to feel accomplished in the world. We get that. Just remember that play, friends, health, and even sex are important too and they can help you feel like things are going well in your world. After the 20th, you are better at balancing life and love.
Pisces
Fantasy. Role-play. Showing off a different side of yourself. If you're curious, this is a good time to explore these things with a lover. Speaking of lovers…it's also a good time to do a gut check and see what isn't working between you. If you keep making excuses for bad behavior or if something has been messed up for awhile, consider what would fix things. Being a brave warrior of love doesn't mean you will end up alone. By initiating a fierce conversation, you could improve things.
Aries
Your natural charm is powerful. Remember that during the beginning of July when you crave heat with someone. Is it time for a revolution in the bedroom? Have you been holding back when it comes to love? If yes, get ready for a self-expression explosion. You don't need to be ooey-gooey or emotional. You've just got to be you. Don't be afraid to share your originality and passion.
Taurus
What's up with your friends fighting? Are people seeking your advice more than usual? It's because you're calming, objective, and helpful when there's conflict. Not everyone has your good sense. Be proud of it. And if you experience a power struggle at work or school, know that you can deal with it. Bonus: A powerful new love interest might walk into your life around the 19th. Better have birth control ready.
Gemini
It's a lighter month for you and you're projecting a fresh, fabulous vibe that people are noticing (including a boss or teacher). If you've felt disappointed, down or stuck lately, allow some healing now. You've learned from these things and you're farther along the road to your desires than you realize. Around the 20th, a hot fantasy lover might show up. They'll be sexy as hell, but probably not into anything serious, so keep your reality goggles on.
Whatever the stars hold for you in July, we hope it's a wonderful month. And if you're getting it on, we hope you love your birth control.
XOXO,
Bedsider
P.S. Guy Nottadadi is hot, funny, and like the James Bond of birth control. Check out our Guy's Guide series to see what we mean.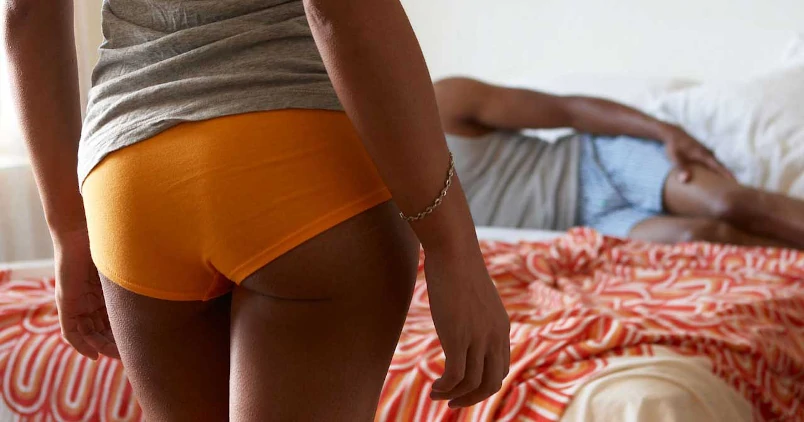 Subscribe to Frisky Fridays
Heat up your weekends with our best sex tips and so much more.