15 warning signs he doesn't support your contraceptive choices
One in five young women say they've experienced pregnancy coercion.
Alice's boyfriend really didn't want to wear a condom. "You don't know how good it feels without one," he'd say—over and over—or "I can't come with one," recalls Alice, 23, of Seattle. "He'd been able to before, so I should have realized that was bullsh*t. But he'd slowly talked me into it." When she finally let him go without, she says, "I was like, 'Fine, if it makes you shut up about it, go ahead.'"
That was the day Alice conceived her son, now 4. But don't call it an "unplanned pregnancy." It wasn't just that Alice's boyfriend liked the feel of condomless sex. He wasn't in denial about the consequences. Alice hadn't planned the pregnancy, but her boyfriend had. Guys like him want to get girls pregnant. As Alice now knows: "He really wanted a son."
As I noted in a previous article for The Nation, and as others have noted, stereotypes about women being the ones to "trick" their partner into pregnancy are extremely misleading and potentially destructive. Experts have put a name to the phenomenon of reproductive coercion, where it's men who force women into sex without contraception. According to the Family Violence Prevention Fund (FVPF), one in five young women say they've experienced pregnancy coercion; one in seven say a guy has sabotaged her contraception. Though other abuse may not be occurring, it sure as heck might: women who have been abused by a boyfriend are five times as likely to be forced into not using a condom and eight times more likely to be pressured to get pregnant.
Guys like Alice's boyfriend hide birth control pills or flush them down the toilet; they sweet-talk, threaten, even rape. Why? Not because they're dreaming of booties, blankets, and Daddy-baby yoga. "It's about one person controlling another," says Leslie Walker, M.D., chief of adolescent medicine at Seattle Children's Hospital. (Talk about control: experts say some men force their girlfriends to get pregnant—and to have abortions.) It's the ultimate form of control: of your body itself and—if you have a baby, or get an STI, some of which cause infertility—of the rest of your life.
Reproductive coercion happens to teens and adults, rich, poor and average; any race or religion; women in long-term relationships, hookups, and in-between; women like Anya Alvarez, 21, who was having sex with a guy she'd just started seeing when she spotted her NuvaRing on her rug—which, needless to say, was not where she had put it. Yep: he'd yanked it out. "He said he'd done it to other women and they didn't mind," she says. Even in a new relationship, or something you wouldn't call a relationship at all, you need to be careful.
Red flags
"One clear warning sign: a partner who doesn't support your using whatever contraception you want," says FVPF senior policy director Rebecca Levenson. "Even if it's subtle, like weird-supportive, it still gets him what he wants."
Does he refuse to wear a condom? "That's near-universal with reproductive coercion, and can start on sexual-date-one," says Heather Corinna, founder and director of Scarleteen and author of S.E.X.: The All-You-Need-To-Know Progressive Sexuality Guide to Get You Through High School and College.

Does he equate birth control with cheating? As one woman ("Erika") reported to the FVPF: "He said the pill made women want to have sex all the time, and that I'd cheat because I wouldn't need to use a condom."

Do you go behind his back to get contraception? "Erika" snuck to a clinic for the pill. "For a year, I made sure he never saw them," she says.

Does he say things about hormonal birth control (Pills, implants, IUDs) like (MYTH ALERT!!!!). "Those make you gain weight, which you struggle with. I love you so much I wouldn't want you to do that"?

Does he threaten to hurt you if you use contraception—or consider abortion?
There's also sweeter-sounding baby-making talk. "It can seem like he's trying to express commitment or get serious," says Corinna. "Only people who love you want to make babies with you, right? Wrong. Some people want to create a family for the best reasons. Others want to control you, make it harder for you to leave, or create new, smaller people to control. The folks with the good motives will not ever pressure or trick you." Does he:
Say things like "If you have a baby we'll always be connected" or "If you really loved me you'd have my baby"?

Refer to sperm as mini-hims? Alice: "My boyfriend would congratulate himself for sending in his buddies to get the job done."

Say someone who uses contraception doesn't love their partner? Or contraception keeps people from being close?

Talk about pregnancy or parenthood without including your needs or your body?
New guys may deploy all sorts of lines. Check your gut; don't take a chance. If something sounds off to you—like "I had a vasectomy" or "I smoke pot so I'm infertile"—it probably is.
And some actions say it all:
Do your pills keep disappearing?

Does the condom keep "breaking"? The third time this happened to "Libby" in Illinois, her boyfriend admitted he'd removed it. After that, he began raping her without one.

Have you caught him messing with your birth control or poking holes in condoms?

Does he break his promise to "pull out"?

Does he sneak off the condom (NuvaRing, etc.) during intercourse?

Does he physically force you to have sex without protection?
What to do?
If even one of the above sounds familiar to you…one is too many. Steps to take to protect your health:
If on date one refuses a condom—"ground zero for safer sex," says Corinna—kick him out.

If sex suddenly feels different, check the condom.

Consider contraception you can hide, or that's tough to sabotage, like Depo-Provera or IUD. (Note: This alone does not prevent STIs.)

Get tested for STIs. Some are symptomless, but can do future damage. Talk to a health care provider. If it doesn't make sense for you to leave the relationship now, you can at least try to prevent STIs or pregnancies.

Imagine a healthy relationship. No pressure, no tricks; just love, support—and, if you're ready, sex that feels right. "If a female patient whose partner refuses condoms says, 'They don't feel good for me, either,' I say, 'That's because he's not sharing a real, intimate relationship with you," Dr. Walker explains. "It's not about the condom."
—-
Lynn Harris is an author, essayist, commentator, and award-winning journalist. Her most recent book is the satirical novel Death By Chick Lit, which New York Magazine called "brilliant." She is also co-creator—with supergenius Chris Kalb—of the award-winning website BreakupGirl.net.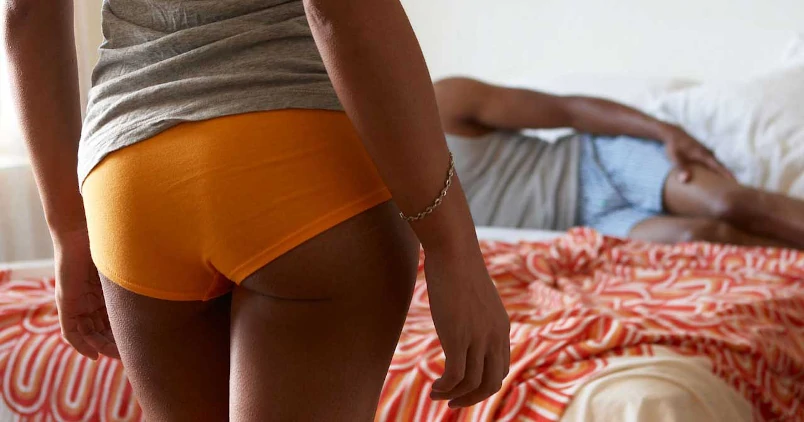 Subscribe to Frisky Fridays
Heat up your weekends with our best sex tips and so much more.