Bite me: New aphrodisiac recipes for a seductive winter dinner
Our latest aphrodisiac dinner menu is seductive and sophisticated. If you try this, please let us know how it turned out by reviewing it in the comments—we can't wait to hear about it!
The Juicy
Refreshing. Bubbly. Citrusy. This is a grownup way to get your vitamin C. Serves 2.
¼ cup vodka
Juice of 1 orange
Juice of 1 lemon
Juice of 1 lime
Quality sparkling orange soda (like San Pellegrino's Aranciata)
Lemon and lime wheels for garnish
Divide the vodka and juices between two ice-filled glasses. Top with orange soda, garnish with 1 lemon and 1 lime wheel.
Roasted Chicken and Beet Salad with Lemon Dressing
This divine aphrodisiac-laden dish is hearty, wholesome, colorful, and satisfying—plus it doesn't weigh you down. (So you can eat and enjoy sex without feeling too full.) It's also wonderfully easy and fast to make, so you can focus more on what happens after dinner.
Kosher salt and freshly ground pepper
2 small boneless, skin-on chicken breasts
3 tablespoons olive oil, divided
4 plum-size golden and red beets or one large golden and one large red beet, peeled and sliced into 1-inch wedges
2 teaspoons lemon juice
½ teaspoon minced shallot
4 loosely packed cups spinach
Preheat the broiler on high. Top a rimmed baking sheet with aluminum foil. Salt the chicken breasts with 1 teaspoon salt, then place them, skin side up, in the center of the baking sheet.
In a bowl, toss the golden beets with 1 tablespoon olive oil, ½ teaspoon salt, and a few grinds of pepper. Place them around the chicken in one layer on the prepared baking sheet. Toss the red beets in the bowl to coat with any remaining oil and add them to the golden beets on the baking sheet. Try to keep all the beets spaced evenly in one layer. Then broil the baking sheet contents 6 inches away from the heat for 8 to 10 minutes, or until chicken skin is golden and crispy. Reduce the oven temperature to 300°F and roast for 20 minutes, or until the juices run clear when a knife is inserted into the center of the chicken.
Meanwhile, in a bowl, combine the remaining 2 tablespoons olive oil with the lemon juice, shallot, and salt and pepper to taste. Add the spinach and toss. Divide between two dinner plates.
Slice the chicken into strips, then top each salad with chicken and roasted beets and serve.
Heart-Melting Molten Mocha Cake with Coffee Whipped Cream
This warm, gooey-centered chocolate dessert is a terrific tease, from the aphrodisiac chocolate to the energizing caffeine to the playful coffee-kissed whipped cream. Serve it right after you make it so the molten center is warm when it hits your tongue. Makes 2 individual cakes.
4 tablespoons unsalted butter, plus more for greasing ramekins
1/8 cup plus 1 tablespoon sugar, divided, plus more for dusting
3 ounces bittersweet chocolate, broken into pieces
1 egg
1 egg yolk
2 tablespoons all-purpose flour
1 ½ teaspoon instant or regular espresso powder, divided
Generous pinch kosher salt
½ cup whipping cream
Preheat the oven to 450°F. Butter and dust two 6-ounce ramekins with sugar.
In a heatproof bowl set over a pot of simmering water, melt the 4 tablespoons butter and the chocolate, stirring to combine.
In a medium bowl, whisk together the egg, egg yolk, and 1/8 cup of the sugar until thick and frothy. Quickly whisk in the chocolate, flour, 1 teaspoon of the instant coffee, and the salt until well combined.
Pour the batter into the prepared ramekins, place them on a baking sheet, and bake until the sides of the cakes look cooked but the centers look slightly undercooked, 10 to 12 minutes. Let rest for 1 minute, then top each ramekin with an inverted small plate and flip each over to unmold, gently patting to encourage the cake to fall onto the plate if necessary.
Meanwhile, make the whipped cream: In a bowl, beat together the cream, 1 tablespoon sugar, and the remaining ½ teaspoon instant coffee until it forms soft peaks. Garnish the cakes with coffee whipped cream and a little sprinkled sugar, then serve immediately.
This is going to be delicious. You are delicious. Make sure your birth control can handle it.
BTW, our foodie friend and founder of GFF magazine, Erika Lenkert, created these recipes for Bedsider.
Get cookin',
Bedsider
P.S. Fall in love with our Valentine's Day origami. Some are naughty. Some are sweet. All are easy to make.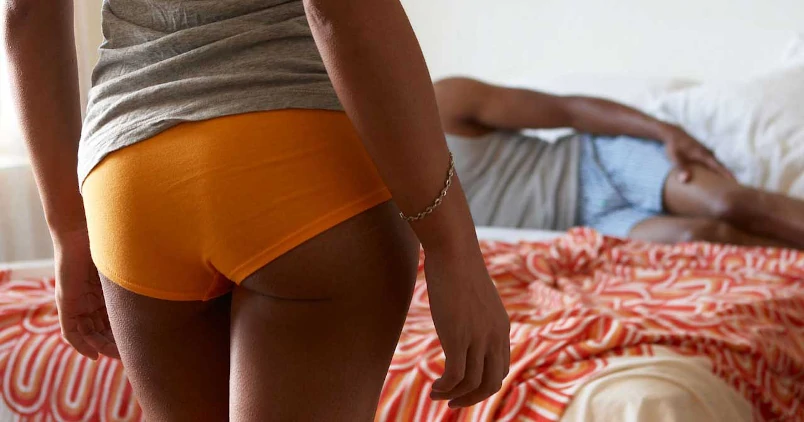 Subscribe to Frisky Fridays
Heat up your weekends with our best sex tips and so much more.