Period sex is the new (and old) pegging
The whats, whys, and hows of period sex
Is it just us, or is everyone talking about period sex all of a sudden? Thinx, those pioneers in all things menstruation, have even made a $369 period sex blanket, so you know it's on trend.
So if you're curious about trying it, but you're not too sure how to get started or even if it's a good idea, we'll walk you through it.
Smash the patriarchy
In reality, people have probably been having period sex for as long as there have been people. People have sex and people have periods, so, yeah, the two happen at the same time.
But until recently, it wasn't much of a topic of conversation. That may be because there's a lot of stigma about periods, and many people are taught (directly or indirectly) to be ashamed of their periods. (Of course, period stigma has a lot more serious effects than limiting our conversations about period sex, such as the huge impact it has on access to education and jobs for people with periods all over the world.)
Here at Bedsider, we believe that knowledge is power and shame keeps us down, so by golly we're going to talk about period sex as much as we want to!
But, um, why would anyone do this?
Great question, glad you asked. Yes, it might be messy, and yes, it might have a smell (by the way some people like the smell, just FYI). But some people find they have a higher sex drive during their period. Having sex when you want to have sex is pretty key to the whole sex feeling good thing. Also some people are super into having sex with people on their periods. Like really, really into it. There's a lid for every pot, y'all!
Also, sex (or, more specifically, orgasms) can actually help reduce cramping and improve your mood. We'll just say that one more time: it can REDUCE CRAMPING and IMPROVE YOUR MOOD. Need we say more?
Safety first
Period sex, like any sex, can have risks. If you (the period-haver) have any STIs, you can definitely transmit them to your partner if you have sex during your period. And your risk of getting an STI is also higher when you're on your period. This is partly because your cervix (the gateway between your uterus and your vagina) is slightly open at this time to let the blood out of your uterus. Some germs may also do better in the less acidic environment created by your period. The bottom line: use a condom during period sex to prevent STIs.
Also you CAN get pregnant during your period, so that friend who told you that you can't was wrong (do us a favor and text them real quick, thx!). It's totally possible to ovulate while you're on your period or immediately after, so find a method of birth control that works for you, and stick to it, regardless of where you are in your cycle.
The how-to
So, how do you actually…do it? Do you need that special period sex blanket? Nah. Though if you do test one out, let us know how it is!
If you're worried about making a crime scene out of your sheets, you can always do it in the shower, or just lay down an old towel first. If you do get blood on the sheets, here are some tips for getting it out. There's also a new menstrual cup that you can keep in during sex. But you can pretty much just do it like you'd normally do it.
And how does it feel, you ask? Like sex that's extra slippery and maybe a little bit naughty. Enjoy!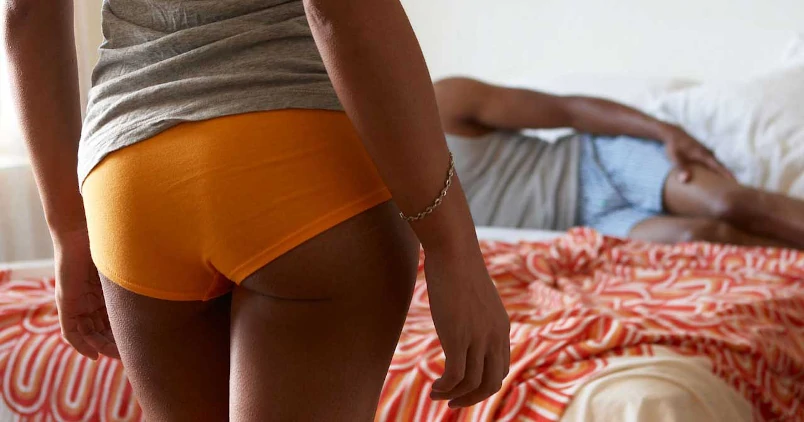 Subscribe to Frisky Fridays
Heat up your weekends with our best sex tips and so much more.