May horoscopes: Bringing sexy back
Here's what's in store for you this month. Spoiler alert: April showers bring May flowers AND lots of hot, hot sex.
Taurus
Things may get a little freaky between the sheets for you this month. Your tastes are usually more on the vanilla end of the spectrum (which is totally cool!), so this is a departure for you. But you're suddenly becoming aware of impulses you didn't know you had. Things may get especially freaky around the 15th. Enjoy the novelty and remember that pushing your boundaries may mean you have to focus even more on clear communication. Owning your "yes" is just as important as owning your "no," and both are necessary in a healthy sex life.
Gemini
You are entering a phase of being super physical. And you are going to be expressing yourself pretty passionately in bed this month. Your partner will definitely take notice of your overall sex-god(dess) status, and they will likely be lavishing praise and attention on you as a result. But things may shift when issues of commitment come up alongside all the pleasure, which will happen around the 16th. Either you or your partner may want more than just a good time, and one of you will want to know whether the other is really in it for the long haul.
Cancer
Sex doesn't come easily to you without deep emotional bonding. The first half of the month may be spent working out whatever's standing between you and your partner emotionally. You need to feel truly seen and understood before you're willing to share warm blankets and sweet caresses, and it may take some time to open up. Though the work may be emotionally exhausting, it'll pay off. Soul connection will mix with deep physical arousal mid-month, and you will finally get that intense, heart-connected physical release you've been craving.
Leo
Sex needs to feel like a temple of sensual worship for you, but this month it may feel more like a battleground. You may find yourself in a clash of the wills with your partner this month, putting your sex life on hold. The only way to get your beloved sexy times back on track is for each of you to give in a little bit. Even though you're obviously in the right, Leo, can you maybe give in a little bit in the name of good sex? It could be that all that tension was just foreplay for an intense mutual release, anyway. Only one way to find out.
Virgo
Sex is best for you when you have a sense of stability. And this month, it seems like that box and all your other boxes are checked, giving you leave to unleash that Virgo passion we know is hidden beneath your practicality. And it's a great time to take your detail-oriented focus into the bedroom. Make your move at the end of a well-planned, tantalizing experience, including a long, romantic meal, a massage, and plenty of sexy talk. (You may even be tempted to unleash your freaky side, especially mid-month!)
Libra
The romance leading up to sex is just as important to you as the act itself. Lean into it this month–no holds barred. We're talking wining, dining, and long romantic conversations before ending the evening in bed. You're more than okay with putting in the time–you live for this stuff! But you may be surprised after all that to learn that there's still one area where your partner needs more attention from you before you get busy. Though it may feel like a lot of effort, the physical and emotional connection you'll both experience as a result will make it totally worth it.
Scorpio
Scorpio sex only has one setting: intense. But the kind of unbridled passion you're seeking will only come after lots of patience this month. Either you or your partner will need extra communication and understanding first, and this will take time. Luckily, you're the type who is in it for the long haul once you've got your eyes on the prize, and you can endure any wait for the promise of great sex. The end of the month will bring far more ease between you, and the sex will be steamy, connected, and satisfying.
Sagittarius
Your sex life is on fire right now! Your partner is meeting your needs in all sorts of adventurous ways, and things just keep getting hotter, especially in the first half of the month. Just keep in mind that your blunt and open style may seem to suit the fiery tone of the moment, but it could be a little overwhelming for a more emotional partner. Be careful not to ride roughshod over your partner's emotional needs–otherwise, a bit of a sexual cool-off could result.
Capricorn
Nothing you're experiencing right now is skin-deep, and that definitely includes your sex life. You've never felt the need for meaning more than you do now, and you are definitely not about a hook up. You want the real thing. This month, it looks like you've attracted a sexual partnership that promises to bring the deepest connection of your whole life. Because of that, sex could be a complicated affair this month, but that doesn't mean the sex isn't bed-breakingly good too. Find the balance between opening your heart and being cautious. Yes, the stakes are high, so is the payoff.
Aquarius
Sex this month may be playful and fun, but is it bringing with it difficult relationship dynamics? You may have attracted a partnership where the lead-up to sex involves lots of complicated tension with each other. Maybe this tension is adding to the heat between you, but it's also creating an unhealthy dynamic. Though there's more than enough chemistry to keep things interesting, it may not be the best long-term situation. Sadly, it may be time to forego the hot sex to make room for a healthier partnership.
Pisces
Get ready–you're going to be feeling super sensual this month. Expect to be flushed, turned on, and flirty at pretty much all times. These amorous feelings may distract you from other things you should be focusing on (like work), but that's okay, because it's only a phase. You likely just need to get it out of your system. You will probably reach a peak point of sexual energy around mid-month before things settle down later in the month, which will be good timing. You're going to have to hunker down around that time on some projects you've been neglecting.
Aries
Sex will blossom naturally out of the easy dynamic between you and your partner at the beginning of the month. Your relentless fire makes for an exciting fast pace in bed, and it's well-received by your breathless partner. They are excited to let you rule in bed the way you were made to. But things may shift around mid-month when some complicated emotions come up between you. It may require you to slow things down in order to deal with it. Can you show up as courageously in the emotional realm as you do in sex?
XOXO,
Bedsider
P.S. Whether May's sexual energy is revving things up between you and a long-term partner or between you and someone new, condoms can help keep things fun and stress-free.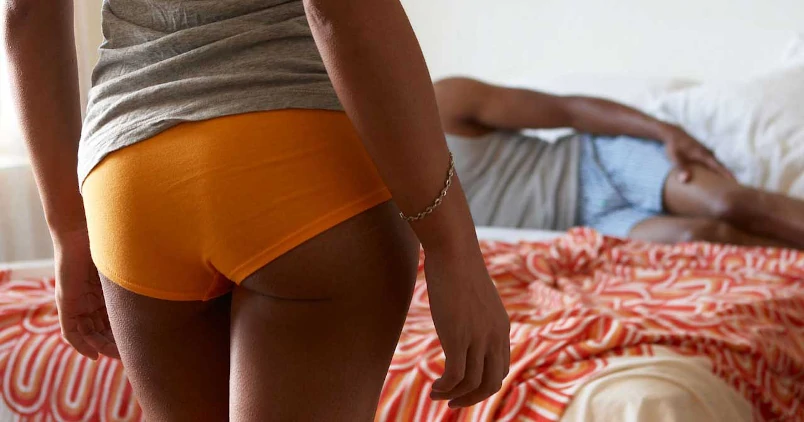 Subscribe to Frisky Fridays
Heat up your weekends with our best sex tips and so much more.