How to date while social distancing
Sex(ts) and Romance in the Time of COVID
There's nothing quite like a pandemic and a local shelter-in-place order to throw a major wrench into your dating life. It was tricky enough to figure out what we wanted and how to find people who wanted that too before it became literally against the law to meet a stranger for a cup of coffee.
But like Celine Dion taught us, the heart will go on. And so will our other parts. With every love- and sex-seeker in the same boat (or rather in individual dinghies in the same horny ocean), the internet has exploded with an international conversation about loneliness, isolation, and connection, and online dating is having a total revolution. Necessity (for romance/connection/orgasms) is the mother of invention, after all, and people everywhere have taken to their keyboards and webcams to figure out ways to fall in love and lust with connections near and far. In honor of these desperate(ly horny) times, here is a handy list of always-solid-but-especially-helpful-in-a-pandemic tips for getting together and getting off in the age of social distancing.
1. Reflect and set your goals
What do you want during self-quarantine, and do you hope it will transfer into life after quarantine? A sexting friend just for now, who could be from anywhere? Romantic video dates with the possibility of live connection after COVID? A few minutes of thoughtful journaling (and fantasizing) about what you want right now will make it so much easier to find a good match and keep the communication clear. If you're hoping for a connection that will last after COVID, shop local if you can. Entering a romantic long-distance relationship when free travel and movement are uncertain for the foreseeable future could set you up for a lot of heartache later. Alternatively, if you want to practice your sexting skills or explore fantasies with someone you'll never meet in person (or see around town), cast a wide net! It's never been easier to find and meet people from all over the world looking for the same thing.
2. Build a container
Frame your thinking into two time periods: during the COVID emergency, and the expanse of the rest of your life once movement and local connections are freer. We don't know when or how our lives will change over the coming months, so it's never been more important to communicate clearly, whether you're looking for a pandemic pen pal or hoping to invest in something long term. If experimentation is the goal, being clear about time frames (like just for the weekend or every Thursday evening for the next three weeks) and whether you're remaining available for connections with other people can help keep everyone on the same page.
3. Make your ad or set up your profile
Set your distance and other filters to reflect your goals from step one above and be as direct as you're comfortable being in order to help like-minded people find you. Keep it brief and punchy, but on-topic. "Looking for a pandemic sext pal for mutual masturbation and beach fantasies" will get you a lot farther than a list of bands you like. If location doesn't matter, consider setting your location to somewhere else, so you can have more anonymity. If you use a photo of your face, pick one that shows a real smile (or laughter) and kind eyes— it's easier to reach out to someone who's showing open, friendly body language, even if the goal is something hot and heavy. Tinder has exploded with long-distance searches and revised profiles of people seeking pandemic-friendly dating approaches, and other dating sites have all adapted in their own ways. LEX is a newer app for queer women and trans folks (no cis men) that uses an old-school personal ad text format, with no photos, and it's become a hot spot for pandemic romantic and sexy connections.
4. Reach out and (don't) touch somebody
If you see an ad you like, send a message! It's never been safer to make the first move. A classic first message template includes: (a) a friendly greeting (b) something you liked about their profile or that you have in common © a related tidbit about yourself, and (d) a question about them. If their ad didn't specifically mention sex, don't bring it up in the first message—just connect on a friendly level first. If their ad was straightforward about what they're looking for, mention your overlapping goals right away. The same format applies if someone writes to you first but there's not enough for you to respond to. Once you establish fun and easy banter, ask them if they'd like to connect over text or for a video date.
5. First date
Congratulations on connecting and deciding to move things off the dating platform! During social distancing, folks are trying lots of different approaches, but two of the most common are a "classic" first date with chatting and drinks (over video chat), or trading phone numbers and seeing where the text banter leads. If you're looking for romance, scheduling dates may help you suss out chemistry more quickly and build something more structured. Whatever your method, dating without in-person options like a first kiss moment requires more communication, so put it into words when you're flirting, feeling a connection, and/or want to talk about dating goals and vibes.
6. Sexxxxxxxxytimes! With or without dating!
Tips 5 and 6 can be independent of each other depending on your goals or the connection. Figure out your personal privacy policy before you begin, and don't send unsolicited sexts or nudes—the rules of enthusiastic consent still apply. Also, remember that all internet dating is social, and friends talk, so don't expect your sexts, photos, or videos to stay private. There's a lot of great information out there (and some less great, so trust your bullshit detector) about online sex connections. Here are two wonderful resources for taking hot selfies and sharing videos.
7. Leave space for the connection to change as the world does
No matter what your long-term goals are, we're all in for a wild ride. If you find yourself fantasizing about a post-pandemic future with a new connection, hold off on making big decisions and hold space in your dialogue for the unknown. A positive reframe of "let's not make plans because the world is scary" is "our connection is really special and I'm excited to see how it grows over the coming months."
8. An exit plan helps with staying in the moment
Before beginning, do some reflection on boundaries and exit strategies. If you have a good process for ending things in person, think about how to translate that to online. If you've not mastered any kind of breakup, this is a great opportunity to practice.
9. Either it's a "f-ck yes" or it's a "no"
Radical consent (the practice of using a verbal ask and answer to ensure enthusiastic agreement) still matters, even when you're not touching! One helpful test for determining whether you want to say yes to something is the "f-ck yes or no" principal. If your immediate reaction to an intimate invitation isn't "f-ck yes!" then "no thanks" may be the right move for you. When it comes to privacy, like sharing personal or identifying information or photos, this is an especially helpful test. If things feel awkward or high pressure, remember: boundaries first, manners second.
Whatever you're looking for, keep in mind that dating is a skill you can learn and improve upon. No matter your level of dating experience before the pandemic, we're all beginners with these new dating norms. Be honest, be communicative, and be gentle with yourself if things feel awkward at first. Good luck and godspeed, you marvelous babes.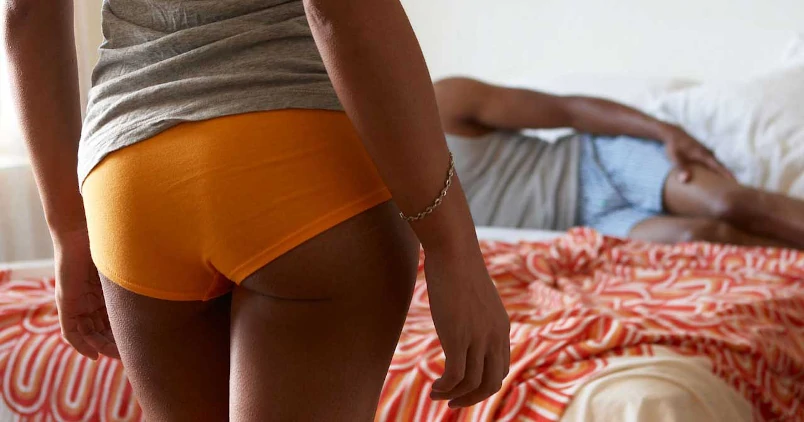 Subscribe to Frisky Fridays
Heat up your weekends with our best sex tips and so much more.