May is Masturbation Month and lockdown is the perfect time to celebrate
A little self-love can go a long way
Sex toy company Good Vibrations began International Masturbation Month in 1995, soon after Surgeon General M. Joycelyn Elders was forced to resign for having the audacity to suggest that young people should learn about masturbation as part of sex education. The goal of the month-long celebration has always been to fight the taboos against self-pleasure and remind people that masturbation is not just safe and healthy but really good for us.
Now, 25 years later, people around the world are spending this month sequestered at home as we do our part to prevent the spread of the novel coronavirus. There may have never been a better May to celebrate solo-sex.
There are some indications that people have been enjoying more masturbation while stuck indoors. For one thing, sex toy sales are up, though sex toys can obviously also be used with partners. Lelo, the luxury sex toy brand, says that its U.S. sales were up 60% at the end of March when lockdowns began in many states; Lovense, a teledildonics brand (yes, that's what you call remote-enabled sex tech), said March was its second best sales month ever; and one sex shop in California told the Los Angeles Times that its sales for the last four days of that month were up 100% compared to the year before.
Not surprisingly, people are also watching a lot of porn. Pornhub, the popular X-rated site that graciously made premium services free to all of Italy during their lockdown, has seen an increase in viewership all around the world. In the U.S., the site's daily traffic for March and the first part of April was as much as 41% above average. Our habits changed as well with more people than usual viewing porn at 3 am and in the middle of the afternoon than in the past (signs of increased insomnia and work-from-home boredom, perhaps).
This is all good as far as we are concerned because masturbation has a lot of benefits and no risk of pregnancy, STIs (as long as you're not sharing toys), or transmitting COVID-19. Orgasms—whether we have them alone or with a partner—are known to alleviate pain, help us sleep, relieve stress, improve our mood, strength our immune system, and add to an overall sense of wellbeing. These are things we could all use during this time of heightened anxiety.
To help you celebrate this month, we have some advice for getting started, making the most of your time alone, and ensuring that you never get bored.
Find the time
For people in lockdown alone, anytime could the right time to masturbate as long as you're not expected on a conference call with your boss or a Zoom happy hour with Aunt Lottie and all 22 of your third cousins. But those people who are at home with roommates, partners, or family members may have to be a little more creative (and, possibly quieter, as well). Masturbation makes a good pre-sleep ritual for those with a bedroom to themselves and is particularly great for middle of the night wake ups. Or, you can pick a time when you know the other people in your house are occupied with work or out walking the dog. Of course, there's always the bathroom—a place where we can be alone with few questions asked and maybe even a door that locks.
Use lots of lube
This slippery substance that can make partnered sex slide smoothly can be a game change for solo play as well. Whether you're rubbing your vulva, massaging your clitoris, or stroking your penis up and down, a little lube goes a long way toward cutting down on friction. This can amp up sensation and reduce the chance of irritation.
There are plenty of lubes for sale online at sex shops, drug stores, and even big retailers like Amazon. If you're worried about your parents or nosy downstairs neighbor opening your package or just don't want to wait on UPS, and you're going to resort to using something you have around the house, be sure to stay away from things that have sugar in them, like honey or jelly, which can cause yeast infections in people with vaginas.
Also, if you're using lube with sex toys (as we're going to recommend in just a second), look for water- or silicone-based lube, and stay away from anything oil-based which might damage your toys.
Test out some toys
Masturbation can be as easy as putting your hands down your pants or strategically placing a pillow between your legs, but to really celebrate this month—and to fight monotony—it can be fun to add some toys.
There are many different types of vibrators designed for people with vulvas/vaginas—some are meant for external (clitoral) stimulation, others are designed to provide pleasurable penetration, and still others (often called "rabbit vibrators") can do both at once.
There are sex toys for people with penises, too, such as masturbation sleeves that claim to feel like the inside of a vagina, ones that vibrate, and others that promise to replicate the best blow job of your life.
And, then, of course, there are anal toys, from beads to butt plugs, that anyone can use. Just remember that not all dildos or vibrators are safe for anal play—you need something with a flared base or a stopper to prevent the toy from getting pulled all the way into your body. Never underestimate the power of the rectum.
Sex toys are so mainstream at this point that they're sold at Walmart, Target, and local pharmacies. But while we're still staying away from physical stores, rest assured there's a huge selection for sale online and most sites do a good job of delivering in nondescript boxes. Remember to clean your sex toys carefully between uses—especially if you're sharing with anyone.
Add a visual aid
As we said earlier, porn viewership is up while people are spending more time at home. Watching something while you masturbate, or beforehand, to get you in the mood, can add to the overall experience. These days porn is readily available and so plentiful that we can all find something that tickles our fancy.
Pornhub reports that people around the world are searching for porn about the coronavirus but all the other familiar categories are still available for those who would rather take their minds off current events. Or if you want to flex your imagination a little bit more, try some of the sites that offer still pictures or erotic stories and fill in the details on your own like literotica.com or adutlfanfiction.org.
Phone a friend
While it borders on being an oxymoron, masturbation doesn't have to be done alone. If you and your partner are isolating in separate houses, you can schedule some time for mutual masturbation via the phone or your favorite (secure) video app. Maybe watch porn together, read an erotic story, or reminisce about your very best sex and touch yourselves the whole time or see who can go without touching the longest. Mutual masturbation can also be a good way to reconnect with old partners you haven't seen naked in a while or get to know new partners during quarantine—after all, it is totally safe sex.
Twenty-five years ago, when International Masturbation Month began, there was a lot of negative information swirling around about solo sex. We doubt many people still believed that it made you go blind or grow hair on your palms, but the notion that you would only masturbate if you didn't have the option to have sex with another person was definitely out there. And some of that stigma—the sense that masturbation is (or should be) everybody's second choice—still hangs around today.
To fight this lingering taboo, we hope that whoever wants to will spend May luxuriating in guilt-free, solo, sexual pleasure. With bars, gyms, and movie theaters still closed and anxiety levels still high, masturbation might just be exactly the kind of self-care we all need this month.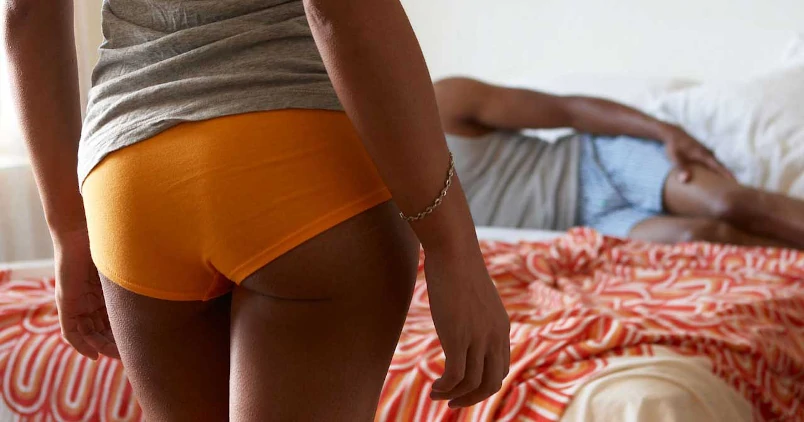 Subscribe to Frisky Fridays
Heat up your weekends with our best sex tips and so much more.