5 ways to let your sleepwear style inspire your bedroom behavior
How to put that oversized t-shirt to work
It's always a good time to shake up your bedroom routine. If you're feeling out of ideas, try taking a cue from the clothes you wear to bed. Lingerie can definitely spice up a romp in the hay, but what about those Tuesdays when you want to get it on in your regular-schmegular undies? We've got you covered. Whether you love wearing lace bralettes or t-shirts to bed, you can always take sexy inspiration from your night clothes if you want to try something different.
1. Lacy and barely there
The peekaboo, delicate quality of lace is part of what makes it such a favorite fabric for lingerie. If lace is your jam, then approach your partner with that same flirtatious energy. Try light, barely-there touches and a coy tickle or two (feathers are fun here). Go slowly, the same way you gently pull on a lace teddy to avoid tearing it. Make a game of pretending your lover will break if you handle them too roughly.
2. T-Shirt and panties
There's not much fancy about your comfy sleeper tee and underwear, but sometimes you're not in the mood for games. You just want to get right to the point. Channel that vibe as you work on getting more direct in communicating what you like in the bedroom. Let it all hang out like your tush at the bottom of your t-shirt. After all, the best part really is pulling that shirt over your head and tossing it across the room.
3. Silk Cami and Boxers
Keeping it cute, short, and sweet with a silky sleeper set is a sure fire way to put a romantic touch on an evening. Silk glides against the skin and feels downright decadent. Consider playing with elements that mimic the feel of silk, like fresh rose petals. Adding a sensuous scented oil massage to your foreplay can loosen up tired muscles and make things slippery…in more ways than one.
4. Flannel Pajamas
Winter may be over, but we all know there's no winter like the indoors winter that is air conditioning season. Flannel jammies are a great way to combat chilly breezes, and so is cuddling up with bae. You don't have to stay bundled up to keep toasty, though. Apply your love of warm, fuzzy things to sexy time by cozying up with your boo on a fluffy faux fur rug or a pile of blankets in front of the fireplace (though having an actual fire in the fireplace might be a bit much).
5. Your Birthday Suit
If you are typically a pajama, cami and boxers, t-shirt and panties, or lacy lingerie kind of lover, there's no sexier statement you can make than coming to bed au naturel. Getting straight to business is always an option. But think of all the fun, delicious things you could do with a naked canvas, like licking off melted chocolate or drawing with edible body paints. If food in your sheets isn't appetizing, try low-heat wax play.
XOXO,
Bedsider
P.S. You know one accessory that's always sexy to have in bed? Birth control! Click here to find the method that best fits your style.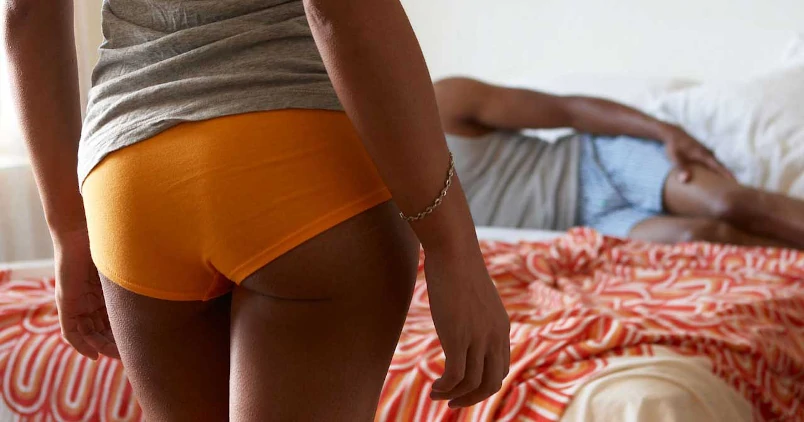 Subscribe to Frisky Fridays
Heat up your weekends with our best sex tips and so much more.